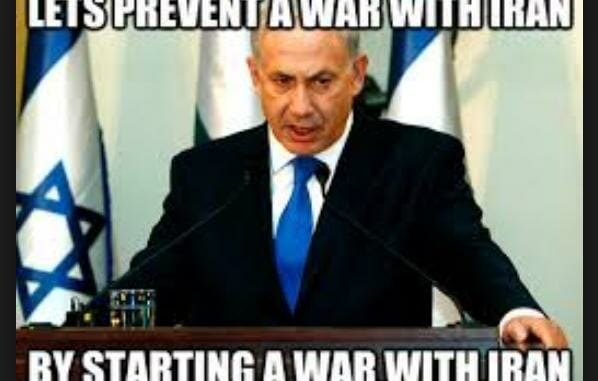 Israel has wanted to wage war against Iran for years to maintain its nuclear monopoly. After Trump exited the Iranian Nuclear Deal, Israel (allegedly) bombed Syria, killing eight Iranian soldiers.  Israel claims Iran shot rockets into its territory. Escalation is underway and seems destined to draw America into full-scale war in support of Israel.  President Trump and the US Congress have pledged to commit American military might and American lives to this goal. -GEG
The
mainstream
media has largely ignored airstrikes on Syria, south of Damascus, which reportedly killed at least eight Iranian soldiers.  The attack was widely attributed to Israel and was launched just hours after Trump terminated the Iran nuclear deal on May 8th.  The foreign policy of the US government is heavily influenced by the Israeli lobby, so there is no reason to doubt that the US will enter a new war with Iran on behalf of Israel's objectives.
.
Israel said that it would assassinate Syrian President Assad if he allows Iranian troops to remain inside his borders.
.
Israeli Prime Minister Netanyahu, who is in jeopardy of being ousted and imprisoned if found guilty in a corruption investigation, has been advocating war with Iran for many years.  Because Russia has been backing Syria, Netanyahu flew to Russia after the (Israeli) attack to meet with Putin to test Putin's resolve to defend Syria.  Putin's response was to present him with a military parade that showed off 'Kinzhal', a nuclear-capable missile that he says is 'invincible' because it can penetrate any missile defense system.
.
The following day, mainstream media published reports by Israel that Iran fired about 20 rockets at Israeli targets in the Golan Heights, a region of Syria that has been illegally occupied by Israel since 1967.  Iran has yet to confirm whether they initiated the retaliatory strike.
.
Sarah Huckabee Sanders appeared on Fox News and said that the reported rocket attack on Israel shows that Iran cannot be trusted and that Israel has a right to defend itself, yet she omitted saying anything about the attack on Syria that provoked the response.
.
.
Hezbollah in Lebanon just won an electoral victory and a mandate for ongoing war, which was a source of irritation for Israel.
.
Events are expected to become even more sensitive as Trump's daughter, Ivanka, and her husband, Jared Kushner, are due to arrive in Israel in the next few days for the opening of the US embassy in Jerusalem.
.
Palestinians have been protesting the 'Nakba' which means catastrophe, and refers to the war with Israelis in 1948 that left 700,000 Palestinians uprooted from their homes, creating a refugee crisis that is still not resolved. 
May 15th
will mark the 70th anniversary of the Nakba, which will stoke additional tension.
.
An email from Hillary Clinton when she was Secretary of State shows that US leaders have committed to support Israel at all costs, including the expenditure of American lives, and that this war has been planned for years.  Here is an excerpt:
.
"The best way to help Israel deal with Iran's growing nuclear capability is to help the people of Syria overthrow the regime of Bashar Assad.
.
Negotiations to limit Iran's nuclear program will not solve Israel's security dilemma. Nor will they stop Iran from improving the crucial part of any nuclear weapons program — the capability to enrich uranium. At best, the talks between the world's major powers and Iran that began in Istanbul this April and will continue in Baghdad in May will enable Israel to postpone by a few months a decision whether to launch an attack on Iran that could provoke a major Mideast war.
.
Iran's nuclear program and Syria's civil war may seem unconnected, but they are. For Israeli leaders, the real threat from a nuclear-armed Iran is not the prospect of an insane Iranian leader launching an unprovoked Iranian nuclear attack on Israel that would lead to the annihilation of both countries. What Israeli military leaders really worry about — but cannot talk about — is losing their nuclear monopoly…."
.
Sources:
.
.