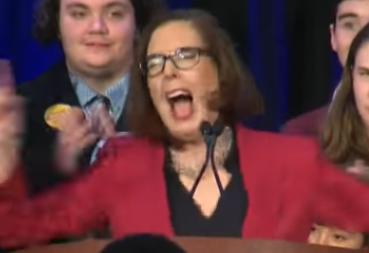 Portland: After a member of Antifa allegedly murdered Aaron Danielson by shooting him in the back because he was wearing a Patriot Prayer hat, the Democrat governor of Oregon, Kate Brown, blamed the
violence
that has lasted over three months on "armed white supremacists" while accepting no responsibility for allowing the riots night after night.
Governor Brown has rejected President Trumps offer to send in the National Guard and instead revealed a plan for local sheriffs to provide personnel and resources to help the Portland Police Bureau. Clackamas County and Washington County sheriffs rejected her request, due to the lack of political support for police, and anti-law-enforcement courts all of which presents too much risk to their officers. The Gresham Police Department joined them in refusing Governor Brown's request. -GEG
The Gresham Police Department on Tuesday joined the sheriffs in Washington and Clackamas counties and said they will not send officers to Portland to help respond to the nightly protests, some of which have turned violent.
Surrounding local law enforcement agencies were called upon by Gov. Kate Brown to support the Portland Police Bureau (PPB) with personnel and resources. It was part of a unified law enforcement plan the governor laid out Sunday night with hopes of ending the violence in Portland while also protecting the free speech of demonstrators.
Brown announced her plan the night after a 39-year-old man was shot and killed in downtown Portland near protests. No arrests have been made in connection to the shooting and Portland police say it's unknown if the incident was politically motivated. The shooting followed a car rally in support of President Donald Trump.