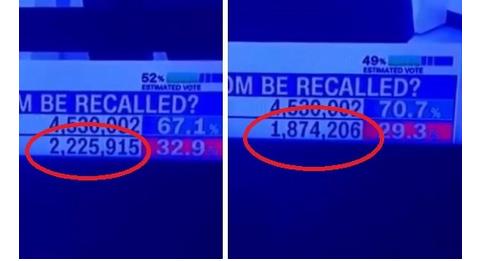 California: On the night of the election to recall Governor Gavin Newsom, over 350,000 ballots tabulated in favor of removing him from office disappeared on a live CNN show. It is impossible to lose votes already counted in an honest election. The AP responded that this issue occurred due to a human error. There is video showing nine similar incidents that occurred during the 2020 Presidential election!
In addition to rolling back votes to remove Newsom, absentee ballots remain the largest source of potential voter fraud. Police found 300 recall ballots and multiple California drivers licenses in a felon's car. There is good reason to think, based on that, ballots have been stolen. Election officials in San Fernando Valley told some Republicans who voted in person that they had already voted, indicating that another party used the Republicans' ballots.
Votes against Gov. Newsom Disappear: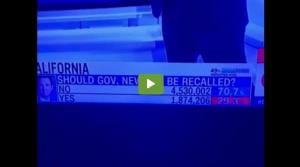 9 Times vote totals dropped for Trump on live TV: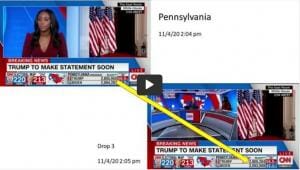 Here we go…
Last night on CNN 351,000 "Yes" votes disappeared in an instant during live coverage of the Newsom Recall Election in California.
This happened live on CNN last night.
This happened during the 2020 presidential election too.
Notice, it ALWAYS only affects Trump supporters and Republicans.
Must be a coincidence, right?
Gateway Pundit:   https://www.thegatewaypundit.com/2021/03/exclusive-video-uncovered-showing-nine-times-2020-election-night-votes-removed-president-trump/
Townhall:   https://townhall.com/columnists/johnrlottjr/2021/09/14/very-concerning-evidence-of-vote-fraud-in-california-recall-election-n2595826