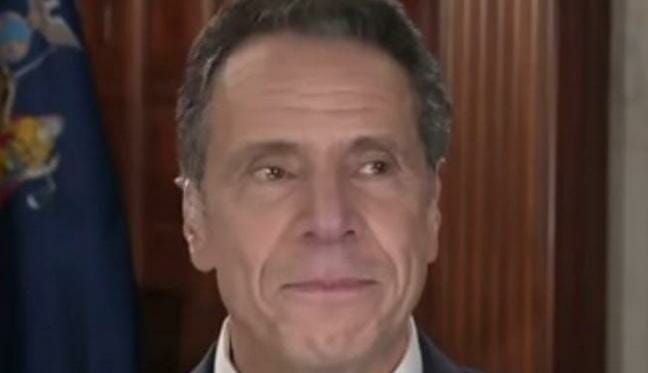 New York Governor Andrew Cuomo is accused by a number of women of sexual harassment and is being called upon to resign. Meanwhile, the case against Cuomo for ordering sick people to be placed in nursing homes, among the elderly and frail, that resulted in an estimated 15,000 deaths, has been sidelined. Cuomo's top aide, Melissa DeRosa, is in the center of the storm because she is concerned that Cuomo's administration could face prosecution for the nursing home deaths. She has ties to lobbying groups and a top prosecutor. -GEG
Summary by JW Williams
The media is focused on the sexual harassment claims of women against New York Governor Andrew Cuomo and New York's Republican congressional delegation, state lawmakers, and others are calling for his resignation. The sex scandal is being used to deflect attention away from Cuomo's order last year to place people who were ill and were diagnosed with Covid-19 inside of nursing homes, among the elderly and those with fragile health.
Last month, Melissa DeRosa, the secretary to Governor Cuomo, was recorded on a leaked audio apologizing to Democrat lawmakers for intentionally withholding from them the state's Covid nursing-home death toll, estimated at 15,000 people. She said she did so over concern the deaths could "be used against us" by federal prosecutors. DeRosa is at the center of the nursing-home scandal as people are demanding an investigation. There is a conflict-of-interest because her husband's mother, Audrey Strauss, is the US attorney for the Southern District, which prosecutes many high-profile crimes.
DeRosa has another potential conflict-of-interest on her side of the family, as her father, Giorgio DeRosa, is a partner and chief lobbyist for the influential Bolton St. Johns firm. Her brother Joseph and sister Jessica also work at the firm. The Bolton St. Johns lobby firm counts the Greater New York Hospital Association as a client; the organization benefited from legislation in 2020 that shielded shielded hospital and nursing home executives from the threat of lawsuits stemming from Covid-related deaths and injuries.
The Greater New York Hospital Association donated $40,000 to Cuomo's election campaign in 2018. The Greater New York Hospital Association also poured $1-million into a Democratic committee that backed Cuomo for his primary election in 2018. The Greater New York Hospital Association pays the Bolton St. Johns lobby firm $24,000 a month for its lobbying services.
In all, during the governor's second term, Cuomo's campaign and his state party committee raked in more than $2.3-million from hospital and nursing home industry donors and their lobbying firms.
New York extended immunity to company executives and corporate board members who are not on the frontlines, but who are making key budget and staffing decisions that affect workers and patients. The new law declared that top officials at hospital and nursing home companies "shall have immunity from any liability, civil or criminal, for any harm or damages alleged to have been sustained as a result of an act or omission in the course of arranging for or providing healthcare services" to address the Covid-19 outbreak.
Democratic assemblyman Ron Kim, who was trying to remove immunity given to corporations, backed an analysis last May that found 77% of total deaths come from states that gave immunity to corporations who owned nursing homes and healthcare facilities and 76% of total nursing home deaths come from states that have legal immunity status for these facilities. "Simply put, people are 7.5 times more likely to die from Covid-19 in states with corporate legal immunity," Kim said.
One critic noted that many of the corporate owners are only interested in profits and don't care about the elderly people in their custody, and, if given immunity from prosecution, they are going to do the absolute minimum and cut corners, which risks lives.
Furthermore, Cuomo's Chief of staff Jill DesRosiers is the life partner of Harry Giannoulis, president and co-founder of the Parkside Group, another Empire State lobbying behemoth. People are married to, and the children of, top lobbyists. So the potential for conflicts of interest abound.
Sources:
NY Post:   https://nypost.com/2021/03/06/families-of-female-aides-defending-cuomo-rake-in-millions-lobbying-him/
The Guardian:  https://www.theguardian.com/us-news/2020/may/26/andrew-cuomo-nursing-home-execs-immunity
Drop Box:  https://www.dropbox.com/s/4cnp9drx3vf17lk/2020_RK_ImmunityKills%20Report%20DRAFT%20TWO%20Final.pdf?dl=0
NY Post:    https://nypost.com/2021/02/13/cuomo-aide-melissa-derosa-is-related-to-top-fed-prosecutor/