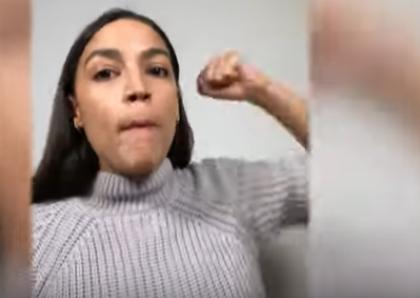 Democrat Representative Alexandria Ocasio-Cortez (AOC), who claimed she narrowly escaped death during the Capitol protests, was not in the Capitol building during the event. She was in the Cannon Building down the street, connected to the Capital Building by a tunnel that was never open to the demonstrators. Now she is being called out for lying with the hashtag #AlexandriaOcasioSmollett, referring to the case of Jussie Smollett, who falsely claimed that he was the victim of an attack by Trump-supporting racists.
An email allegedly from "Alexandria Ocasio-Cortez for Congress" encouraged her followers to report to Twitter and Facebook anyone who challenged her claims about the January 6 protest on Capitol Hill. AOC called for help just as two hashtags were trending — #AOClied and #AlexandriaOcasioSmollett — spread by people who challenged some of her claims about the January 6 event at the Capitol.
Democratic Rep Alexandria Ocasio-Cortez, whose melodramatic story of "narrowly" escaping "death" during the Capitol protests was the top story the past two days, was not in the Capitol building during the event but instead the Cannon Building down the street and a fellow congresswoman two doors down from her says their hallway wasn't "stormed."
From Red State:

AOC wasn't even in the Capitol building where all the action was going down. If she was in her office, she was in the Cannon Building which is nearby, but a different building. But of course, many didn't get the logistics and just assumed that she was in the Capitol building.

According to Rep. Nancy Mace (R-SC), who has an office in the same hall as AOC, two doors away, there were never any rioters in their hall so there was never any physical danger from rioters coming in at any point.
Mace is an establishment GOPer who went along with this whole "insurrection" hoax, which makes this even funnier.
Additional source: