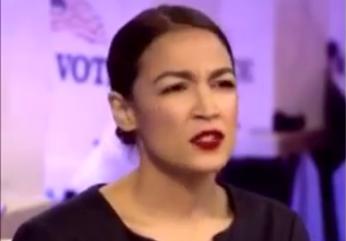 Congressional candidate Alexandria Ocasio-Cortez (D-NY), an avowed socialist, says that "Medicare for all" would ultimately save Americans money, despite studies that show it actually would cost $40-trillion over the next ten years. Other programs that she supports would bring the total to $40 trillion. They include $5.4-trillion for guaranteed jobs,$1.4-trillion to cancel student loans, and $1.3-trillion for free college, paid family leave, and expansion of Social Security. [Socialists – and all other advocates of collectivism – are like kindergarten children believing in fairy tales. They have no concept of economics, human nature, or even simple mathematics. They are voting themselves and the rest of humanity into chaos and slavery. We cannot stop them. Our only hope is to enlighten them and convert them to individualism. If you want to help us in this task,
Freedom Force awaits you
.] -GEG
Alexandria Ocasio-Cortez has some grandiose ideas. The Socialist candidate for a New York House seat has a platform that even the left-wing Tax Policy Center says will cost some $40 trillion over the next 10 years.
On Sunday, Ocasio-Cortez appeared on the CNN morning show "State of the Union," where host Jake Tapper asked her how she'd pay for all her costly programs — especially when her proposed tax increases would bring in just $2 trillion in new revenue.
Her answer included this gem: "… When you look at the economic activity that it spurs — for example, if you look at my generation, millennials, the amount of economic activity that we do not engage in. The fact that we delay purchasing homes, that we don't participate in the economy as purchasing cars as fully as fully as possible is a cost. It is an externality, if you will, of unprecedented amount of student loan debt."
Uh, OK.
Below is a transcript complied by Grabien:
TAPPER: "Your platform has called for various new programs including Medicare for all, housing as a federal right, federal jobs guaranteed, tuition free public college, canceling all student loan debt. According to nonpartisan and Left leaning studies friendly to your cause, including the Center on Budget and Policy Priorities or the Tax Policy Center, the overall price tag is more than $40 trillion in the next decade. You recently said in an interview increasing taxes on the very wealthy, plus an increased corporate tax rate would make $2 trillion over the next ten years. Where is the other $38 trillion going to come from?"
OCASIO-CORTEZ: "One of the things we need to realize when we look at something like Medicare for all, Medicare for all would save the American people a very large amount of money. What we see as well is that these systems are not just pie in the sky. Many of them are accomplished by every modern civilized democracy in the western world. The United Kingdom has a form of single payer health care, Canada, France, Germany. We need to realize that these investments are better and they are good for our future. These are generational investments so that they are not short-term Band-Aids but they are really profound decisions about who we want to be as a nation and how we want to act as the wealthiest nation in the history of the world."
TAPPER: "Right. I get that. But the price tag for everything that you laid out in your campaign is $40 trillion over the next 10 years. I understand that Medicare for all would cost more to some wealthier people and to the government and to taxpayers, while also reducing individual health care expenditures. But I am talking about the overall package. You say it's not pie in the sky but $40 trillion is quite a bit of money. And the taxes that you talked about raising to pay for this, to pay for your agenda, only count for two [trillion dollars]. We're going by left-leaning analysts."