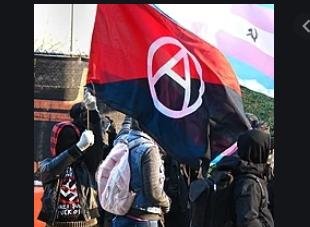 Leftist college professors take to the media and Twitter accounts to voice their opinions, mostly sympathetic to rioters. They are using social media to promote and justify violence. The presidents and trustees of these universities have not objected to their rhetoric of hatred and violence. Former Antifa member Gabriel Nadales says that the group has grown in numbers and has become more violent because college administrators and college campuses allow Antifa to work under their noses.
As riots ravage the country, university professors have taken to the media and their Twitter accounts to voice their opinions, many of them in support of or at least sympathetic to rioters setting businesses ablaze weeks into the worst economic crisis since the Great Depression.
Professors have been using their platforms to promote and justify the violence which is currently destroying cities and livelihoods.
The Washington Free Beacon reported that Kitty Eisele, whose Twitter bio says she is a Georgetown University professor and NPR editor, wrote and later deleted a tweet hinting at her hopes that the rioters would destroy the Trump International Hotel in Washington, D.C. The hotel is housed in the Old Post Office Building, which is owned by the federal government but leased by the Trump Organization. Completed in 1899, the building is included in the National Register of Historic Places.
[RELATED: WATCH: Former Antifa member asks students if group should be 'terror' org. They said yes.]
"Shame they aren't noticing the Trump Hotel which costs more and has a more problematic clientele," Eisele tweeted. She later acknowledged the tweet was sent in "poor judgment." She made claims that rioters are "white supremacists."
Steven Thrasher, assistant professor of journalism and the head chair of social justice reporting at Northwestern University, praised the destruction of cities as a "very proportionate response to what's happening" in an NPR interview. He claims that "people who don't agree with it will say it's a terrible thing that a business has been burned, as if property is more important than life."
Thrasher goes on to claim that the violence is "being done by the police themselves" because they "are rioting and attacking people and attacking property." He says that the police are likewise "going to be enforcing starvation, eviction, homelessness," and that damage is inevitable "because too much money is going to the police."
Jenn M. Jackson, an assistant professor of political science at Syracuse University, took to Twitter to claim that the police officer profession is rooted in racism.