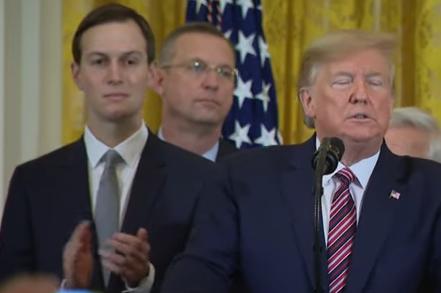 President Trump signed an executive order to make Jews on college campuses a "protected class" by expanding the legal classification of Jews to include them as having an Israeli national identity. The law states that the Education Department can take such action against any program that discriminates "on the ground of race, color or national origin". This will allow the Education Department to pull funding from colleges that allow political movements that focus on the policies of the government of Israel. The order is intended to put a stop to to the Boycott, Divest and Sanction Israel movement that is popular on college campuses.
In response to the pro-Israel lobby in America, 27 states have passed laws attempting to curb the BDS movement.
President Trump plans to sign an executive order to combat anti-Semitism on college campuses by threatening to cut off federal funds to schools that don't curb discrimination against Jewish students, according to a senior administration official.
The order, to be signed Wednesday, is designed to target the Boycott, Divest and Sanction Israel movement, popular on college campuses. The Trump administration—along with critics on the left and the right—has long argued BDS is a pernicious form of anti-Semitism akin to discrimination against racial minorities or women.
The order, first reported by The New York Times, would define discrimination against Jewish students as a form of bias against their shared national identity—Israel—rather than just a form of religious discrimination. Defining Judaism effectively as a form of national identity allows the Education Department to open civil rights investigations into schools that it deems not to be fostering an open climate for Jewish students. Under federal civil rights law, the Education Department doesn't have the authority to crack down on any direct form of religious discrimination.
Critics of a tougher federal approach against BDS say the government is infringing on the free-speech rights of the movement's supporters and essentially favoring Jewish students over Muslim students, who feel a crackdown on BDS is also discriminatory.
"It is designed to chill any kind of speech that is critical of Israel," said Joe Cohn, legislative and policy director at the Foundation for Individual Rights in Education. "This would be unconstitutional."
At least 27 states have passed laws attempting to curb the BDS movement, in part by requiring state contractors to sign pledges not to support it. Several of those laws have been struck down in federal courts as a violation of the First Amendment.
The president's executive order is intended to achieve through administrative action what a long-stalled bill in Congress, the Anti-Semitism Awareness act, would have written into law. That bill has broad, bipartisan backing in Congress, though some Democrats and Republicans also oppose it on free-speech grounds.
The executive order also adopts a controversial definition of anti-Semitism from the State Department, which defines one form of it as "denying the Jewish people their right to self-determination" and cites opposition to Israel as an example of that behavior. Supporters of BDS and free-speech advocates fear that definition could allow the administration to go after any sort of criticism of Israel as a form of discrimination, with millions of dollars in federal funding at stake.