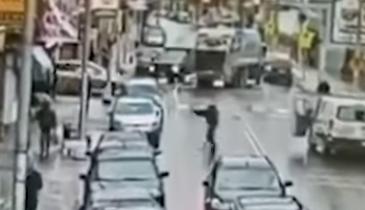 A black man and woman shot and killed a police officer and then stormed a Jewish market and killed three more people. There is rising tension amid the increasing population of ultra-Orthodox Jews in the residential area populated by the local black community. The male gunman, David Anderson, once belonged to the Black Hebrew Israelite group that believes they are the the true descendants of biblical Jews. -GEG
Summary by JW Williams
Investigators believe David N. Anderson and Francine Graham killed Police Detective Joseph Seals near a cemetery and then drove a stolen and heavily armed U-Haul truck to a nearby Jewish market and stormed the bodega, shooting and killing three people there, and starting a 3-hour police standoff that ended with in the shooters' deaths.
New Jersey Attorney General Gurbir Grewal said that the evidence points to acts of hate and that "we're investigating this matter as potential acts of terrorism, fueled both by anti-Semitism and anti-law enforcement beliefs." The FBI is investigating the shootout as "domestic terrorism with a hate-crime bias slant to it."
There has been friction between long time black locals in response to the population surge in the residential area chosen as the new home of the fervently religious ultra-Orthodox Jewish community that has been priced out of Brooklyn. Video shows the shooters deliberately bypassing other people on the busy street, aiming directly for people inside the kosher deli. The store was the social center of the fledgling Hassidic community. Store owner, Leah Mindel Ferencz, was killed along with customer Moshe Deutsch, 24, the son of a prominent Jewish leader, Abe Deutsch.
CBS reported that Detective Seals, who was part of the unit responsible for removing guns from the street, was attempting to interdict weapons in the van when he approached the suspects, and they opened fire. Detective Seals was shot to death while investigating  was reportedly investigating the murder of Michael Rumberger, an Uber driver who was beaten to death and stuffed in the trunk of the car. Anderson and Graham are also suspected in the murder of the Uber driver.
David Anderson has a lengthy criminal history that included domestic violence and weapons charges. He served in the Army reserves for four years as a specialist, repairing fuel and electrical systems and was discharged in 2003, and records show he was in jail at the time of his discharge.
David Anderson was once a member of the Black Hebrew Israelites who believe they are the true descendants of biblical Jews. Experts say that some sects within the movement disdain modern white Jews. It was reported that some members of the Black Hebrew Israelites also "believe that God will make whites, who these groups consider spawns of the devil, into their slaves."
Following a racially-charged incident that took place in January, a Black Israelite from Brooklyn admitted that he sparked the controversial face-off outside the Lincoln Memorial by viciously berating a group of Catholic high school students from Covington, Kentucky for more than an hour before activist Nathan Phillips began chanting and beating his drum in the face of one of the minors.
Freshman Democrat US Representative Rashida Tlaib tweeted , "This is heartbreaking. White supremacy kills."  When she learned that the shooters were not white, she deleted her message.
Sources:
https://www.cnn.com/2019/12/12/us/jersey-city-new-jersey-shooting-thursday/index.html
https://www.npr.org/2019/12/12/787413809/acts-of-hate-officials-say-jersey-city-shooters-held-animus-toward-jews-and-cops
https://www.cnn.com/2019/12/11/us/hebrew-black-israelites-jersey-city/index.html
https://www.northjersey.com/story/news/hudson/2019/12/12/jersey-city-shooting-suspect-was-army-veteran-with-history-of-weapons-violence-offenses/4411802002/
http://www.informationliberation.com/?id=61009
https://nypost.com/2019/01/22/this-hebrew-israelite-from-brooklyn-sparked-the-covington-controversy/
DISGUSTING: Radical Democrat Rashida Tlaib Tweets Out "White Supremacy Kills" After Violent Black Racists Shoot Up Kosher Market