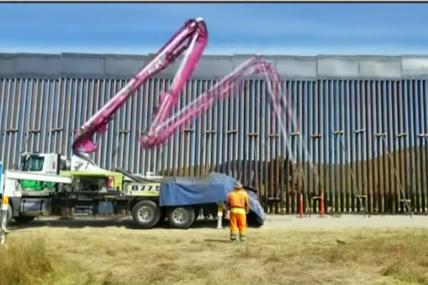 We Build the Wall, a group founded by Brian Kolfage, a triple amputee Air Force veteran, raised more than $20 million from over 300,000 people on GoFundMe, a crowd-sourced fundraising site. We Build the Wall broke ground in New Mexico, on a half mile stretch of private wall that connects two 21-mile sections of existing fencing to fill a gap that allowed drug and human smuggling. The estimated cost was between $6 to $8 million. We Build the Wall was ordered to 'cease and desist' for lacking proper permits, according to Sunland Park Mayor, Javier Perea.
We Build the Wall members include Steve Bannon, former Kansas Secretary of State Kris Kobach, former Representative Tom Tancredo, former baseball player Curt Schilling, former Sheriff David Clarke, and Blackwater founder Erik Prince.
A group that raised millions of dollars in a GoFundMe campaign says it has broken ground on a project to build its own stretch of border wall on private property.
We Build the Wall, a group founded by a triple amputee Air Force veteran, said in a series of social media posts Monday it had started construction on private property in New Mexico. The announcement comes months after the group began its GoFundMe campaign to raise private donations for a border wall, and days after a federal judge blocked President Donald Trump from tapping into billions in Defense Department funds for his administration's wall construction efforts.
Federal judge blocks Trump from using Defense funds for parts of border wall"Buckle up, we're just getting started!" the group wrote in a Facebook post, sharing what it said were images of construction over the weekend.
On Monday evening, a CNN team watched as heavy machinery rumbled over the site near the New Mexico-Texas state line near El Paso. Kris Kobach, former Kansas secretary of state and longtime immigration hard-liner, spoke to CNN over the clanking and beeping of construction equipment.
"It's amazing to me how crowdfunding can successfully raise a lot of money, and how many Americans care about this," said Kobach, who's now general counsel for We Build the Wall.
A half-mile stretch of wall on the site is nearly finished, Kobach said, costing an estimated $6 million to $8 million to build. The main contractor working at the site: Fisher Industries, a North Dakota-based company that Trump has been aggressively advocating should be awarded government contracts to build the border wall, The Washington Post reported last week.
Word of the private wall's construction is likely to rile opponents of efforts to build up barriers at the US southern border, while energizing supporters of Trump and one of his most oft-repeated campaign promises.
Additional source:
https://www.washingtonexaminer.com/news/we-build-the-wall-ordered-to-cease-and-desist-border-wall-construction