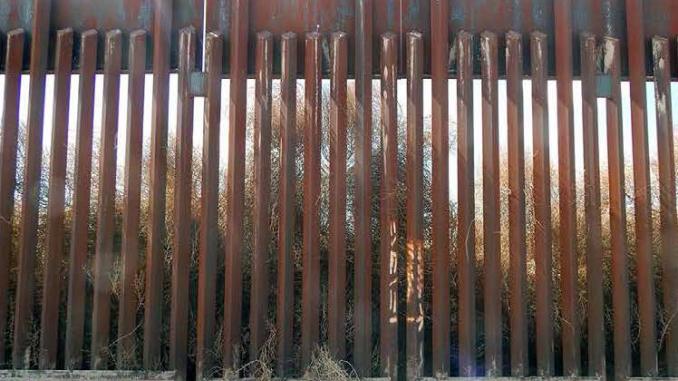 Congress passed the new spending bill, without reading it, to prevent another government shutdown, voting 300-128 in the Democrat-majority House and 83-16 in the Republican-majority Senate, which is veto-proof.  Critics are encouraging Trump to veto and send it back to Congress for reconsideration.  Representative Mo Brooks (R-AL) says the spending deal will lead to an amnesty for millions of illegal aliens because the bill prevents illegal aliens from being deported and makes sure that newly arrived border crossers are resettled in the US. 
Congress has refused remove benefits that attract migrants and close immigration loopholes, and is instead is increasing bad policies by expanding Catch-and-Release, potentially doubling low-skilled foreign workers, reducing detention for border crossers, creating a path to amnesty for Unaccompanied Alien Children (UAC), and implementing chokeholds on immigration enforcement.  In exchange, Trump will get $1.3 billion for 55 miles of steel bollard fencing. Local officials, including those in sanctuary cities, must approve all wall construction.  Trump said he would sign the bill and vowed to make an emergency declaration to use existing government funds to build the wall without congressional approval.  Brooks said there are three provisions in the spending deal that courts could use to stop the building of a wall at the border through an emergency declaration. 
Rep. Mo Brooks (R-AL) is urging President Trump to veto a spending bill put forward by establishment Republicans and Democrats, telling SiriusXM Patriot's Breitbart News Tonight the deal is "really bad for America."
Brooks detailed all aspects that he said make the spending package a major problem for American citizens while benefitting illegal aliens, human smugglers, child traffickers, the MS-13 Gang, and the Mexican Cartels.
The spending bill includes:
Trump, Brooks said, should veto the spending bill.
"If the president were to veto it, we would sustain his veto," Brooks said. "I would certainly hope that the president will veto because it's really bad for America. Whether he will or not, I can't say."
"I applaud President Trump when he does those things that helps secure our border, that helps protect the Rule of Law. This legislation does not help secure our border, it makes things worse, in my judgement."
Brooks went on to slam the de facto amnesty provision for the illegal alien sponsors, household members, and relatives of UACs coming across the southern border and other restrictive policies that could block a national emergency declaration:
Any sanctuary city or state potentially has the authority to block the construction of any wall during this fiscal year that they don't like or want. You've also got large tracks of federal government land where the president is prohibited from building a wall along the border under this legislation. With respect to Immigration and Customs Enforcement (ICE), all sorts of limitations that are in effect, amnesty for illegal aliens. [Emphasis added]

…

If you have an Unaccompanied Alien Child (UAC) in your household, then the entire household is exempt from being deported. If you're MS-13 drug cartel, what does this tell you? The thing to do is to kidnap or get a kid, put that kid in your household and boom, you're immune from deportation no matter how many drugs you sell or people you kill. That's horrific. [Emphasis added]

…

Then you've got other language in this legislation that has the potential to restrict the ability of a president to build a wall under the emergency declaration that we anticipate tomorrow. [Emphasis added]
While urging Trump to veto the spending package, the Alabama congressman also asked voters and Trump supporters to flood the White House phone lines to voice opposition to the border deal.
"The average folks need to call and contact the White House and go crazy about this legislation," Brooks said. "Ideally, under this circumstance, when you're trying to get bad legislation shoved down your throat in the last second where no one in the public had an opportunity to review it or understand it, much less communicate their views to their elected officials in Washington, D.C."
Specifically, Brooks said there are three provisions in the spending deal that could be interpreted by the courts to ultimately prevent the president from building a wall at the border through an emergency declaration.