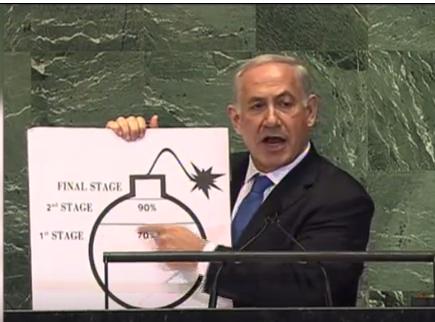 Israeli Prime Minister Netanyahu made a presentation designed to convince President Trump to end the nuclear deal with Iran, and to back Israel in a war with Iran that fails to benefit America in any way. 
Israeli Prime Minister Netanyahu made a presentation claiming 55,000 documents and 183 CDs containing photographs, charts, documents, blueprints and videos prove Iran has been planning to build nuclear weapons before and after signing the Joint Comprehensive Plan of Action (JCPOA), the Iran Deal, and that their denials are lies.  He said that he shared the data with US officials who could "vouch" for the authenticity, but provided no proof that was independently authenticated.  Netanyahu wants President Trump to terminate the Iran Deal, and to back Israel in a war of aggression against Iran.
.
Iran has complied with the JCPOA as there are no reports of violations.
.
There is no benefit for Americans to start a new war with Iran.  But Israel has much to gain.
Netanyahu's presentation was reminiscent of Colin Powell's
call
for war in 2003, based on false information of weapons of mass destruction that was provided by Israel.
Netanyahu lied Americans into war against Iraq in 2002 when he falsely claimed that Iraq was
building
nuclear weapons, and we are still fighting that war today.  Additionally, he lied about Iran producing operational nuclear weapons within months in 2006, 2008, 2012 and 2015.  But the weapons have yet to materialize.
.
Israel is suspected in the recent bombing in Syria that killed a number of Iranian soldiers that occurred hours after Israeli Prime Minister Benjamin Netanyahu talked on the phone with President Trump, and the same day Netanyahu met in Jerusalem with US Secretary of State Mike Pompeo.
.
Before rushing off to war to another war for Israel, we should consider these points on the motives for a new war:
–  A
Hillary Clinton
email shows that Israel seeks to be the only nuclear entity in the Middle East and hold its monopoly at any cost (to Americans), which is the purpose of going after Iran.
–  Israel seeks to expand its borders to create Greater Israel.  Israel's
plans
to destabilize (divide and conquer) the Middle East were written down by Oded Yinon in 1982.
–  Netanyahu wants to deflect attention away from his scandals as he is being investigated on two charges of bribery and faces being ousted and serving prison time.
–  The recent gas attack in Douma that was to be used as an excuse to go to war was proven to be a hoax and this is a new excuse for war.