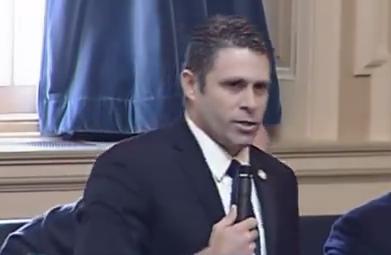 Republican Virginia State Representative, Nick Freitas, a strong supporter of gun rights guaranteed by the Second Amendment, gave a jaw-dropping speech opposing Democrats who are calling for gun control while refusing to consider arming teachers. In response to the pretended outrage by Democrats over NRA donations to Republicans, Freitas challenges them to compare those to similar donations to Democrats from Planned Parenthood. If you enjoy seeing hypocrisy exposed, you will love this speech. -GEG
All eyes are suddenly fixed on Nick Freitas, a Republican member of the Virginia House of Delegates, now that he's ticked off a lot of Democrats with his powerful speech on guns that quickly went viral, raking in over 12 million Facebook views since Friday.
The powerful and aggressive speech, which touched on inconvenient truths about the Democrat Party's history, even triggered some Democrats to walk off the House floor.
Freitas delivered his remarks on Friday as a response to the very heated gun control debate.
"For several days now, some Democrats in the Virginia House of Delegates have made public speeches comparing those of us who take our oath to the Constitution seriously, to include the 2nd Amendment, to Nazis and segregationists," wrote the delegate on Facebook captioning his speech, which he dubbed as his "response" to such attacks.
The Republican first debunked the leftist notion that deterring so-called "gun violence" means further infringing on Second Amendment rights. Digging deeper than gun control measures that he noted have proven ineffective in areas like Chicago and Washington, D.C., he said Americans should be looking at why so many shootings happen in "gun-free zones." And he called attention to the high likelihood that killers come from a broken home, which he connected to the growing welfare state and the abortion industry, and how hardening schools could be a practical, proactive step.
Addressing the Left's dirty tactics of impugning Republicans' moral character to push their gun control agenda, Freitas listed off some hard truths about the history of the Democratic Party, which ruffled some feathers.
"It's really difficult to have an open and honest debate about this […] because members of this body are comparing members of [the Republican] side of the aisle to Nazis," he said, adding that it was particularly offensive that GOP members were also compared to "segregationists."