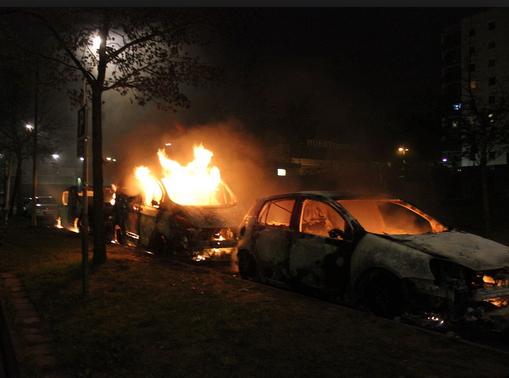 Explosives destroyed the front entrance of a police station in Helsingborg last week. Although there were no injuries, an attack against a police station has jolted politicians into calling for military intervention in migrant no-go zones. -GEG
Twenty members of the Moderate Party in Sweden have proposed the government deploys the armed forces in some of the country's most dangerous no-go zones to combat "gang violence".
Moderate Party politician Mikael Cederbratt made the proposal this week saying: "The situation in our areas of exclusion has deteriorated. The gangs have taken over and the police have had to retreat. Swedish law no longer applies there."
Cederbratt was backed up by 19 other Moderate party members who signed a motion to deploy members of the Swedish armed forces in the heavily migrant populated Stockholm suburbs of Hallunda-Norsborg, Tensta, Rinkeby, and Husby Botkyrka Direct reports.
"It is absolutely necessary to do something, because these gangs are like cancerous tumours in our country, and it is urgent. My absolute belief is that we, the nation of Sweden, must declare war on criminal gangs," Cederbratt said.
"It is the responsibility of the state to maintain the law, especially the police. But the police today do not have the numerical ability to maintain public order," he added.
In certain no-go zones, police have been brutally attacked, some of which has even been caught on video. In Rinkeby, police have been trying to build a new, more secure police station for months but have been unable to find building contractors due to the danger of working in the area.
80 Per Cent Of Swedish Police Consider Quitting Over Migrant Danger https://t.co/uaaXWiAnlP pic.twitter.com/iazilLjWMW

— Breitbart London (@BreitbartLondon) September 20, 2016
Cederbratt said that the military could take on police functions in the areas. "For example, a police bus and a night in Norsborg could be manned by four to five soldiers led by a police inspector," he said.
The front of a police station in Helsingborg, Sweden, was demolished by explosives shortly after midnight Wednesday morning, an incident which has been called an attack on democracy by Swedish Prime Minister Stefan Löfven.
Approximately one kilogram of explosives destroyed the front entrance to a local station in Helsingborg Wednesday, which also caved in windows of building across the street from the target. Despite the "very powerful explosion charge", there were no injuries or fatalities, according to reports.