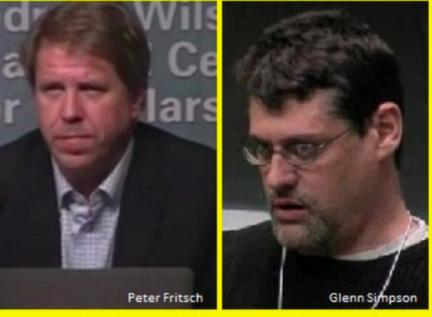 Fusion GPS, the 'opposition-research' firm behind the dossier that smeared Trump by accusing him of hiring Russian hookers, now is suspected of fabricating a similar smear campaign against Alek Boyd, a journalist from Venezuela who uncovered how a Venezuelan power company skimmed $1-billion from contracts with the Chavez government. Boyd now is the object of anonymous sources and unverifiable rumors that he is a pedophile, drug addict, and extortionist – and his children have been threatened. -GEG
The self-described "strategic intelligence" firm Fusion GPS that was behind the controversial anti-Trump dossier has a track record of intimidation and smear tactics, according to congressional testimony and the firsthand account of a London-based Venezuelan journalist who said he was labeled a "pedophile," "extortionist" and "drug trafficker" after criticizing one of Fusion's clients.
"I believe that Fusion GPS's business is to do basically whatever the paymasters tell them to do," Alek Boyd, the Venezuelan journalist, told Fox News in his first American TV interview. "They are particularly good at spreading misinformation, disinformation and smears."
Boyd says he was targeted after his 2012 reporting on Derwick Associates, a power company with close ties to the Venezuelan government. The company allegedly skimmed nearly a billion dollars from rigged contracts with the late Venezuelan dictator Hugo Chavez.
"It is my understanding that [Fusion GPS] were hired basically to smear Derwick opponents and to dispel any possible doubts that regular media may have had at the time," he said.
British police records show Boyd reported a break-in, with two laptops stolen from his London apartment in November 2014. Asked by Fox News what was on the computers, Boyd said, "A lot of information and a lot of evidence about corruption and scandals in Venezuela that I've been compiling throughout the years."
After the break-in, Boyd said his sources were attacked. "People that were believed to be collaborating and sending me information from Venezuela were assaulted in Venezuela by the intelligence police of Mr. Chavez," he said.
Asked if Fusion GPS was tasked with coming after him, Boyd said, "I believe that they were involved in the defamation campaign — smearing campaign — shortly after my apartment was broken into."
Boyd says he was labeled a pedophile, drug addict and thief on the web. "They published this information through a number of social media and websites anonymously. They created fake Twitter accounts with my name, impersonating myself. … They started publishing photos of me walking around London with my daughters. They produced a huge amount of information — fake information — about me, accusing me from being a pedophile to being an extortionist to a drug trafficker to a car thief."
Boyd says he believes three suspects, seen in security camera video released by British police, left pictures of his children inside his coat pocket as a warning. "The message, I believe at the time — we know where you are and we know where your children are, so take that as a threatening message."