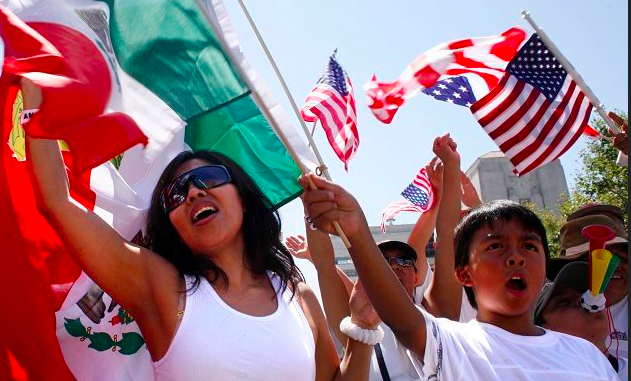 US District Judge, William Orrick, an Obama appointee, placed a block on Trump's Executive Order intended to withhold funding from communities that protect illegal aliens from US immigration authorities.  Orrick said Trump's threats to withhold federal grants were 'coercive' and overly broad, violating the Constitution. He said that Congress, not the President, controls spending. [This is one of those areas in which there is truth on both sides. True, the Constitution gives Congress the right to control spending, but the President also has the right –  some would say the obligation – to override Congress if he believes funding has been authorized for unconstitutional purposes. These are the kind of issues that inevitably rise to the Supreme Court but, even then, the President is obligated to follow his own judgment and conscience. The ultimate resolution, in such a contest, would be presidential impeachment by Congress. That's what checks-and-balances are all about.]  –GEG
A federal judge in San Francisco on Tuesday partially blocked President Trump's attempts to punish "sanctuary cities" that do not fully comply with federal immigration enforcement efforts by withholding federal grant money.
U.S. District Judge William Orrick ruled that Trump exceeded his presidential authority when he signed an executive order Jan. 25 directing his administration to withhold all federal funding from local jurisdictions deemed to be "sanctuary" jurisdictions. That general term describes more than 300 local governments that have limited their cooperation with federal immigration officials.
Orrick said a president has the power to withhold some funding, including three Justice Department grants directly tied to law enforcement. He ruled that the Trump administration can withhold funding under those grounds.
But Orrick said Trump's threats to withhold all federal grants were "coercive" and violated several fundamental principles established in the Constitution.
"The Constitution vests the spending powers in Congress, not the President, so the Order cannot constitutionally place new conditions on federal funds," Orrick wrote.
 The ruling marks the latest courtroom defeat for Trump in his quest to limit legal and illegal immigration into the country. Federal judges twice blocked the president's attempts to temporarily suspend legal immigration from majority-Muslim countries, and Tuesday's ruling limits his ability to punish cities that don't fully comply with his efforts to halt illegal immigration.
The White House released a statement late Tuesday night, blasting the judge's ruling as an "egregious overreach."
"Today, the rule of law suffered another blow, as an unelected judge unilaterally rewrote immigration policy for our Nation," the press secretary's office said in the statement. "This case is yet one more example of egregious overreach by a single, unelected district judge. Today's ruling undermines faith in our legal system and raises serious questions about circuit shopping."
White House Chief of Staff Reince Priebus condemned the ruling and said the administration would appeal. Opponents of Trump's immigration policies are "forum shopping" by filing cases in the liberal 9th U.S. Circuit Court of Appeals, and Tuesday's ruling is another example of the success of that tactic, Priebus said.
"Again, it's the 9th Circuit going bananas," Priebus said. "We'll win at the Supreme Court level at some point."
The lawsuit was filed by government officials in San Francisco and Santa Clara who said local governments were facing billions of dollars in lost revenue because of Trump's order. They argued in court that the executive order was overly broad, included vague threats and never defined what the administration considers to be a "sanctuary" jurisdiction.