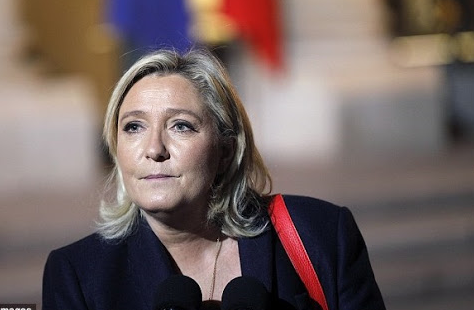 France: Right-wing presidential candidate Marine Le Pen, who is anti-immigration, won 22% of the vote, while progressive candidate Emmanuel Macron received 24%, The runoff election will be held May 7.  Le Pen warned voters that France's survival is at stake. This could completely re-structure the political system, because neither of the old-line parties made it to the second round, including the current ruling socialist party. [Bear in mind, however that, in terms of principles, there is little difference between progressive and socialist.] –GEG
In the first round of voting in the 2017 French presidential election, En Marche! progressive candidate Emmanuel Macron came away with 24 percent, and the Front National's "far right" Marine Le Pen grabbed 22 percent, with 50 percent reporting. The numbers guarantee them both a spot in the runoff.
In a speech following the results, a confident Le Pen told her supporters that France's "survival" is at stake.
It's time, she said, to get rid of the "arrogant" people in the government who want to dictate to the people and usher in a new era.
"I am the candidate for the people," she said.
Many pundits have made parallels between Le Pen and candidate Donald Trump's campaigns. Both candidates' supporters garnered a severe distaste for both the political elite and the media in their respective races. Like Trump, Le Pen has also been attacked as "racist" for her right of center views.
For the first time in modern French history, no mainstream party candidate is advancing, upending the country's political system.