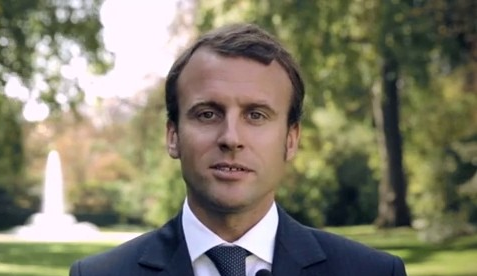 Emmanuel Macron won 65% of the vote and will become France's youngest leader since Napoleon Bonaparte.  Far-right critic of the EU and immigration, Marine Le Pen vowed to create a strong opposition force and called on patriots to support her. –GEG
Emmanuel Macron won France's presidential election Sunday after his opponent Marine Le Pen conceded shortly after polls closed at 8 pm.
Le Pen called Macron to concede the election after the centrist candidate was projected to have won approximately 65 percent of the vote in the country's run-off election. Reports showed a low voter turn out for an election that was considered to be a determining factor in France's future in Europe.
"A new chapter in our long history begins tonight. I want it to be one of hope and renewed confidence," said Macron after his victory.
Le Pen noted that French citizens voted for "continuity." She promised to create a "number one opposition force" to counter globalization in France, calling upon "all patriots to join" her new movement.
The 39-year-old Macron is France's youngest leader since Napoleon Bonaparte and comes into office as a relative unknown with limited political experience as a former economic minister.
Le Pen, a known skeptic of the European Union, has long advocated for a "France-first" policy, specifically regarding immigration and economics. She warned in March that the EU "will die" and promised a referendum on France's membership in the union.