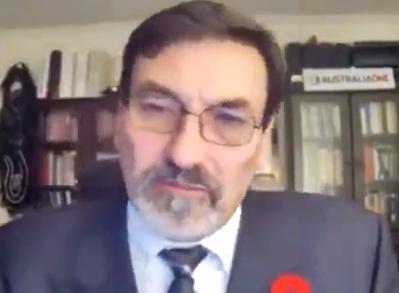 Former Lt. Colonel Riccardo Bosi is the head of the Australia One Party, CEO and author who previously served for 26 years in the Australian Military's Special Forces and Navy. Here he outlines why the Australian government's COVID-19 policies are unlawful and he gives advice to civilians and soldiers alike for protecting oneself against tyrannical leaders. Australian Federal law supersedes State law and explained the country's Biosecurity Act of 2015 that prohibits any form of quarantine, isolation, enforced medical treatment/vaccination, PCR testing or other restrictions due to sickness without the issuance of a Control Order for each person to be restricted. Although this is Australian law, there are strong parallels in most countries and, even without the laws, the legal principles are sound. Australia One Party may be on the rise. -GEG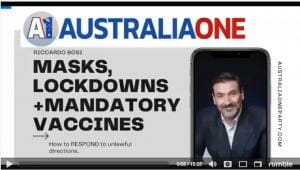 Link for video:    https://rumble.com/vlugpm-australia-the-law-is-on-your-side-when-government-force-vaccination.html
Australia is currently experiencing imposition of particularly harsh controls on human rights and freedoms in the name of fighting COVID19. This is despite the country havin a very low case load and a mortality rate way below many other diseases which no control have been imposed for.
In this video the former Lt. Colonel makes clear how much contempt he has for those enforcing the state controls on the population and states that the legal situation is such that the states are acting unlawfully.
He highlights (as I also did several days ago) that the death rate from injuries from the experimental COVID vaccines is currently higher than the death rate from the disease itself.
Note: I am not a lawyer and the laws involved are long and complicated. I am not able to confirm his claims, but provide links to the documents in question so that interested parties can do their own research. Please let us know if you find anything useful.
Points made:
Australian Federal law supercedes State law.
Australian Federal law includes the Biosecurity Act 2015 prohibits any form of quarantine, isolation, enforced medical treatment/vaccination, PCR testing or other restrictions due to some kind of sickness without the issuing of a specific control order for each individual that is to be restricted. This has not been done in Australia to back up the controls being enforced by Policy enforcers and some military.
The Australian Privacy Act 1988 prohibits anyone from demanding vaccination status or other medical information – even for employment. No-one is allowed to track your movements using an app. Entry to businesses based on some kind of medical reason is illegal and breaches can result in several years in jail for the business owner.