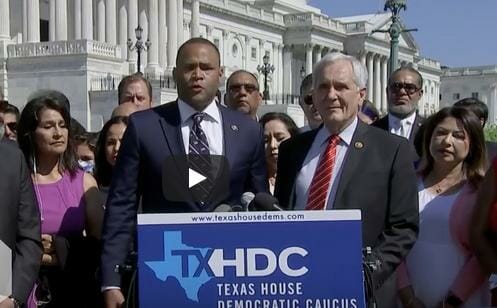 Texas: At least 58 Democrat members of the state House of Representatives fled the Lone Star state and headed to Washington DC to block Republicans in the State legislature from passing Election-Reform laws. Their absence left the legislature without a quorum and, therefore, unable to call for a vote. The reform bill includes requiring ID to vote, restrictions on voting by mail, limits on early voting and curbside voting, and limits on the use of drop boxes. Texas Governor Greg Abbott said the fleeing lawmakers violated the state constitution and will be arrested when they return and will be cabined inside the Texas Capitol until the voting is completed. The fugitive Democrats are scheduled to meet with Joe Biden and Kamala Harris this week. A recent
poll
showed that 80% of Americans want voter laws to require photo IDs, with 62% of Democrats, 87% of Independents and 91% of Republicans supporting the policy. GEG
President Joe Biden and Vice President Kamala Harris are scheduled to meet this week with the Texas Democrats who fled Texas law enforcement to block state election integrity efforts.
The meeting, which may include Sen. Chuck Schumer (D-NY), will presumably take place in Washington, DC, where the fugitives are taking refuge from the Texas State House, which voted Tuesday to arrest the members for leaving the state during session.
Upon arriving in Washington, the fugitives held a press conference Tuesday morning in which they broke into song mid-conference.
Gateway Pundit:   https://www.thegatewaypundit.com/2021/07/abbott-says-democrat-lawmakers-fled-texas-will-arrested-return/