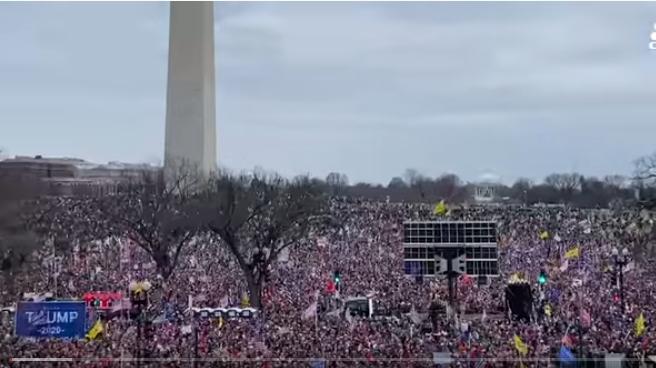 Darren Beattie of
Revolver.news
published a bombshell report about the FBI's involvement in the siege of the Capitol on January 6th. Tucker Carlson explained how the FBI infiltrated the march on the Capitol to stage a false flag attack meant to demonize Trump supporters. While the Justice Department has thrown the book at Trump supporters who went inside the Capitol, some of the key people participating on January 6th have not been charged with crimes, despite their actions that were more aggressive. The government calls those people 'unindicted coconspirators' and Carlson said that more than 20 of them were almost certainly working for the FBI. The government's own documents admit that the riots were organized at least in part by government agents. In March, FBI Director
Christopher Wray implied
that the bureau was infiltrating groups that oppose the Biden regime.
Former assistant FBI director Frank Figliuzzi suggested members of Congress should be arrested for the Capitol protest.
Republican Representative Matt Gaetz demanded FBI Director Wray explain the extent FBI agents infiltrated and embedded into militia groups, including the Oathkeepers, Proud Boys, and Three Percenters, that entered the Capitol building.
Fox News host Tucker Carlson explained how the FBI infiltrated the march on the Capitol on January 6th to stage a false flag attack meant to demonize Trump supporters.
In his opening monologue on Tuesday's edition of "Tucker Carlson Tonight," Carlson broke down known facts about the Capitol protest that show the FBI organized the coordinated breach of the Capitol building.
"Law enforcement officers participated in the riot. Sometimes in violent ways. We know that because without fail, they've thrown the book and most people were present and in the capitol on January 6. Many of them are still in solitary confinement tonight," Carlson began.
#Thread Must Watch Tucker Carlson Segment On Revolver News's Piece About January 6th: Unindicted Co-Conspirators In January 6th Cases Raise Disturbing Questions Of Federal Foreknowledge pic.twitter.com/wzxwsPU0dE

— The Columbia Bugle 🇺🇸 (@ColumbiaBugle) June 16, 2021
"But strangely, some of the key people participating on January 6th have not been charged. Look at the documents, the government calls those people unindicted coconspirators. What does that mean? It means that potentially with every single case there were FBI officers on January 6th," he said.
Carlson then described court documents revealing numerous individuals who participated in rioting at the Capitol have not been arrested and their identities have not been disclosed.
"For example, one of those unindicted coconspirators is someone that a document as 'Person to go.' According to those documents, they stayed in the same hotel room as an insurrectionist, someone who alleged to be part of the group the oath keepers. They stormed the barricades alongside Thomas Caldwell."

"The government's indictments further indicate — by the way, a 65-year-old man is a dangerous insurrectionist, was led to believe there would be a 'Quick reaction.' Also participating on January 6th. That quick reaction would be led by someone called 'Person 3' who had a hotel room and an accomplice with them."

"But wait, here's the interesting thing. Person 2 and person 3 were organizers of the riot. The government knows who they are, but they have not charged them. Why is that? You know why. They were all certainly working for the FBI. So FBI operatives were organizing the attack on the capital."

"On January 6th. According to documents. And those two are not alone. In all, they said they were upwards of 20 unindicted coconspirators all playing roles in the conspiracy who have not been charged for virtually the exact same activities."

"And in some cases, much, much more severe activity as those named alongside them in the indictment. So it turns out that this white supremacist insurrection was again, by the government's own admission in these documents, organized at least in part by government agents," Carlson said.

"Are you shocked? We are shocked, we shouldn't be shocked. Because in March, the FBI director admitted that the bureau was infiltrating as many groups that oppose the regime as they possibly can," Carlson rhetorically asked.
Revolver News founder Darren Beattie joined the show to break down his bombshell article laying out the evidence Carlson described as well as former assistant FBI director Frank Figliuzzi suggesting members of Congress should be arrested for the Capitol protest.
BREAKING: @DarrenJBeattie of Revolver News breaks down the involvement of FBI operatives who organized and participated in the January 6th Capitol riot. pic.twitter.com/t1UOnT5zgc

— Rep. Matt Gaetz (@RepMattGaetz) June 16, 2021