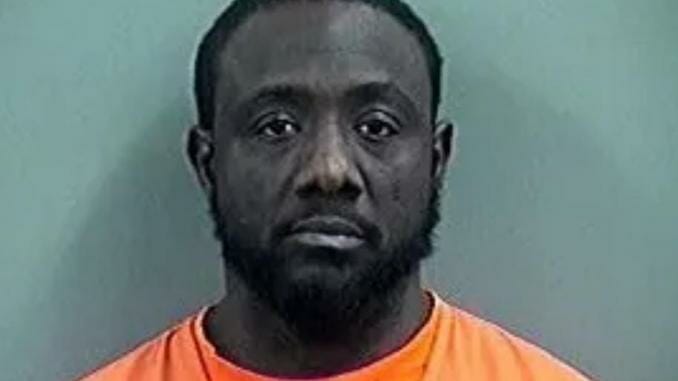 Chickasha, Oklahoma: Lawrence Paul Anderson was released early from prison in a so-called Criminal Justice Reform program. He is accused of killing his 67-year old uncle, stabbing his aunt in the eye and killing their 4-year old granddaughter. He allegedly confessed to breaking into the home of a neighbor, 41-year-old Andrea Lynn Blankenship, killing her, cutting out her heart, and taking it across the street to his aunt and uncle's home, and then cooked it in a pot with potatoes.
Anderson originally was sentenced to prison in 2006 for attacking and pointing a gun at his girlfriend. He went back to prison in 2012 for selling crack cocaine near an elementary school. He was sentenced again in 2017 for having a gun and sneaking drugs into jail. Republican Governor Kevin Stitt signed off on a commuted sentence, reducing Anderson's sentence from 20 years down to nine years. However, Anderson only served three years of his sentence. He was released on January 18, three weeks before the murders. He faces three counts of first-degree murder and one count of assault and battery with a deadly weapon, and one count of maiming. Cannibalism is not a crime in Oklahoma, so there will be no additional charges for that. It's not clear yet if Anderson was on drugs when the killings occurred, but a vial of PCP was reportedly found in his clothing when he was arrested.
A triple murder suspect broke down in tears in an Oklahoma courtroom as a prosecutor detailed how he cut out the heart of one of his victims, cooked it with potatoes, and fed it to his relatives before trying to kill them too.
Lawrence Paul Anderson, 42, confessed to breaking into 41-year-old Andrea Lynn Blankenship's home in Chickasha, Oklahoma, on Feb. 12 by breaking down her back door with his shoulder. He then allegedly confessed to killing her and cutting out her heart, taking it across the street to his aunt and uncle's home and sauteing it with potatoes. He then tried to force them to eat it to "release the demons" before he fatally attacked his uncle and nearly killed his aunt. He is also charged with murdering their 4-year old granddaughter Kaeos Yates.
Police confiscated the cooking pans used in the alleged crime, including a pan with food still inside.