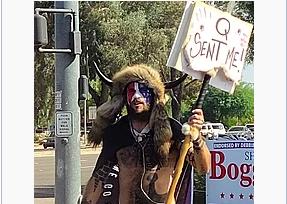 Jake Angeli, the man wearing the fur and horned hat, whose real name is Jacob Anthony Chansley, was charged with knowingly entering a restricted building without lawful authority, and with violent entry and disorderly conduct on Capitol grounds. Chansley is reported to be a die-hard Trump supporter and campaigner for QAnon. He reportedly had a profile on Backstage.com in Phoenix that identified him as an "actor/voice over artist and singer" prompting suspicions that he was a paid actor at the protest. The day after the Capitol protest, the Phoenix Enigma a website that frequently deals with the occult, live streamed a three-hour phone interview with a guest who says he is Jacob Chansley. At the 1:27:20 marker, Chansley says he is enrolled as an intel agent in the "super soldier" program of the US Navy. He also says he has worked with or among members of BLM who, until now, did not know he is a government agent. The super-soldier program is is a military program seeking ways to enhance the physical and mental capacities of soldiers to the point where they become superior fighting robots.
New videos show that police opened the Capitol building to protesters, as Jacob Chansley claimed. This means, the building was not stormed. -GEG
Federal agents have arrested the rioter seen wearing a horned-headress and holding a spear during Wednesday's rampage through the Capitol.
Arizona resident Jacob Anthony Chansley, 33, also known as Jake Angeli, was busted Saturday, officials announced.
The shirtless Chansley — who apparently took style cues from an elk's lodge and the film "Conan the Barbarian" — was identified "as the man seen in media coverage who entered the Capitol building dressed in horns, a bearskin headdress, red, white and blue face paint, shirtless, and tan pants," Justice Department officials said in a statement.
"This individual carried a spear, approximately 6 feet in length, with an American flag tied just below the blade," the feds added.
Chansley — who appears in footage from Wednesday's chaos pumping his bicep on the dais in the Senate chamber — was charged with knowingly entering or remaining in any restricted building or grounds without lawful authority, and with violent entry and disorderly conduct on Capitol grounds.
"The fact that we had a bunch of our traitors in office hunker down, put on their gas masks and retreat into their underground bunker, I consider that a win," Chansley, identified as Angeli, told NBC News after the riot.
Interview with guest who claims to be Jacob Chansley (scroll to1:27:20):
https://www.brighteon.com/fe552ee3-1354-4c37-b879-29b555d91632
Here are new videos showing that police opened the Capitol building to protesters, as Jacob Chansley claimed. This means, the building was not stormed: