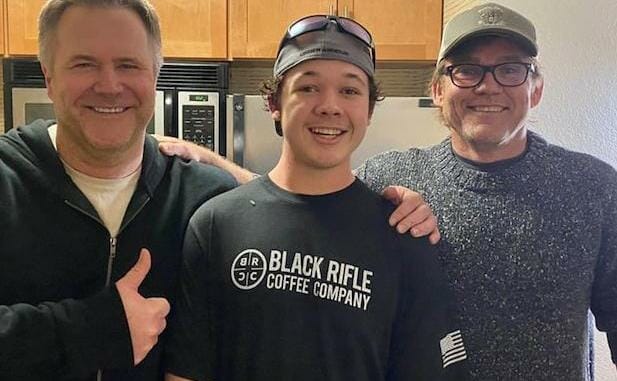 Kyle Rittenhouse, 17, was released from a juvenile center Friday night after spending nearly three months in custody under accusations of shooting three people, killing two, with a rifle he is too young under state law to purchase. Rittenhouse's attorneys maintain the boy was in Kenosha to protect local businesses from rioters and acted in self defense. Rittenhouse faces charges of first-degree intentional homicide, reckless homicide and attempted intentional homicide. He faces up to life imprisonment if convicted. Cash bail was set at $2 million. TMZ reported that former 'Silver Spoons' and 'NYPD Blue' TV star Rick Schroeder contributed $150,000 to spring Rittenhouse from a juvenile detention center, and MyPillow founder Mike Lindell donated $50,000.
All three men shot were confronted Rittenhouse, and two were trying to grab his gun; in the first case, Rittenhouse was running away, and in the second situation, he tried to run, but fell.
All three of the men who Rittenhouse shot had violent criminal histories: Rosenbaum was a registered sex offender and had multiple grand jury charges of raping children. Huber was a felon convicted in a strangulation case was accused of domestic abuse. Grosskreutz was convicted of a crime for use of a firearm while intoxicated and was armed with a handgun when shot.
https://www.bitchute.com/video/EkvoxfqyViu8/
Kyle Rittenhouse, the teen facing charges for the deaths of two people shot in Kenosha, Wisconsin, was released from custody due to what a member of his defense team described as a miracle Saturday.
MyPillow founder Mike Lindell and former child star Ricky Schroder helped cover the $2 million cash bail that resulted in Mr. Rittenhouse being freed on Friday, attorney L. Lin Wood confirmed.
"It can be described as a miracle," Mr. Wood told former White House adviser Stephen K. Bannon while appearing on his "War Room: Pandemic" podcast. "I believe it was an act of God," he added.
Mr. Rittenhouse, 17, of Antioch, Illinois, was released from a juvenile center Friday night after spending nearly three months in custody awaiting trial for charges related to the shooting deaths.
Defense lawyers said afterward that Mr. Lindell, a businessman famous for his TV commercial pitches for his MyPillow brand, and Mr. Schroder, who rose to stardom on "Silver Spoons" in the 1980s, helped post bail.
Additional sources:
https://www.tmz.com/2020/11/21/ricky-schroder-helps-get-accused-murderer-kyle-rittenhouse-bail/
Wisconsin https://www.wisconsinrightnow.com/2020/08/28/kenosha-shooting/
https://www.wisconsinrightnow.com/2020/08/28/kenosha-shooting/