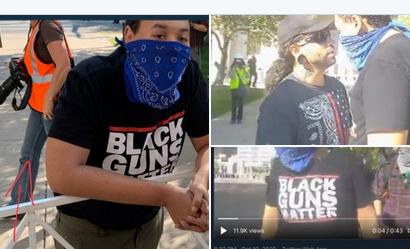 Denver, Colorado: Mattew Dolloff, who was working as an armed security guard for a local news station, has been charged with second degree murder in the killing of Lee Keltner, who was attending a patriot rally last weekend. New evidence in the case contradicts the narrative, as video shows that another man, Jeremiah Elliott, a BLM Antifa leader wearing a 'Black Guns Matter' t-shirt, was harassing the patriots, leading critics to question whether the shooting was a coordinated effort. Elliott immediately left the scene after the shooting, and appears to have been recorded saying "one less white supremacist" & "f**k yeah, right in the f***ing dome."
Several days ago, the Denver Post, under fire from social media, released two photos that they omitted in the series by photojournalist Helen Richardson; the critical photos appear to show Dolloff drawing his gun as his victim, Keltner, retreats.
The BLM/ Antifa counter protest group collected soup for homeless people, but video indicates that the leftists threw the cans at police
The Denver Post on Monday released key photos capturing the alleged murder of military veteran Lee Keltner at the hands of 9News Denver's hired gun, Matthew Dolloff.

Internet sleuths over the weekend noticed two crucial photos were missing from the selection released by the Post which should have shown when Dolloff drew his gun.

After taking heat on social media, the Post relented and released the damning pictures which further implicate Dolloff in murder.
Additional sources:
https://threadreaderapp.com/thread/1316157990672629760.html
https://www.redstate.com/shipwreckedcrew/2020/10/13/photographer-for-denver-post-who-captured-murder-at-pro-trump-rally-may-have-some-issues/