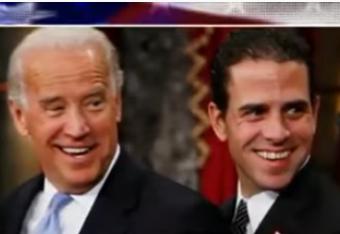 Twitter and Facebook both took unprecedented measures to censor an article from the
NY Post
after it published a bombshell report about emails discovered on a computer believed to belong to Hunter Biden that revealed how he had introduced his father, then-Vice President Joe Biden, to a top executive in at Burisma, a Ukrainian energy firm. A year later, Biden pressured the government of Ukraine to fire the prosecutor who was investigating the company. Hunter Biden was paid up to $50,000 per month by Burisma as a board member. The only reason Hunter was paid by Burisma was so that the energy company could gain political access to Joe Biden, according to a
NY Post
journalist.
Journalist Saagar Enjeti said that the censorship of this story is an in-kind donation worth hundreds of millions of dollars to the Joe Biden campaign. He said that social media censorship rules are selectively enforced in a political manner by Big Tech, which are some of the most powerful companies on Earth. He pointed out that Democrats are closely tied to Big Tech and gave the example of Kamala Harris' press secretary, who is also the Chief of Communications at Twitter.
Joe Biden's campaign claims that Twitter's censorship of the NY Post article proves that the scandal is not true, however, it actually proves that Big Tech is biased toward the left.
Twitter is now also blocking a government website as the House Judiciary Committee Republicans published the NY Post article on its Twitter website. Ironically, Big Tech, acting as a front for the Democratic party, has unprecedented power because Republicans have failed to regulate the monopolies.
Hunter Biden introduced his father, then-Vice President Joe Biden, to a top executive at a Ukrainian energy firm less than a year before the elder Biden pressured government officials in Ukraine into firing a prosecutor who was investigating the company, according to emails obtained by The Post.
The never-before-revealed meeting is mentioned in a message of appreciation that Vadym Pozharskyi, an adviser to the board of Burisma, allegedly sent Hunter Biden on April 17, 2015, about a year after Hunter joined the Burisma board at a reported salary of up to $50,000 a month.
"Dear Hunter, thank you for inviting me to DC and giving an opportunity to meet your father and spent [sic] some time together. It's realty [sic] an honor and pleasure," the email reads.
An earlier email from May 2014 also shows Pozharskyi, reportedly Burisma's No. 3 exec, asking Hunter for "advice on how you could use your influence" on the company's behalf.
The blockbuster correspondence — which flies in the face of Joe Biden's claim that he's "never spoken to my son about his overseas business dealings" — is contained in a massive trove of data recovered from a laptop computer.
Additional source:
https://summit.news/2020/10/15/twitter-blocks-link-to-republican-judiciary-website-in-another-attempt-to-censor-biden-scandal/