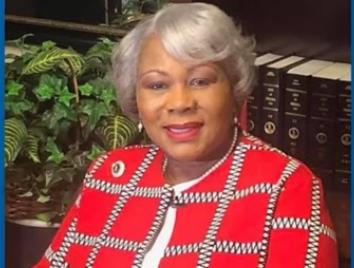 Virginia State Senator Louise Lucas is facing felony charges for conspiracy to commit a felony and injury to a monument causing more than $1,000 in damage during protests that led to a demonstrator being critically injured when a Confederate statue was torn down. Police Chief Angela Greene said, "Several individuals conspired and organized to destroy the monument and to summon hundreds of people to join in the felonious acts, which not only resulted in hundreds of thousands of dollars in damage to the monument but also permanent injury to an individual." Portsmouth NAACP representatives James Boyd, Louie Gibbs, and LaKesha Hicks – and LaKeesha Atkinson, a city School Board member, are facing the same charges as Senator Lucas. Three public defenders, Brenda Spry, Alexandra Stephens, and Meredith Cramer face a single felony charge of injury to a monument in excess of $1,000.
According to the Washington Post, hours before the monument was destroyed, Senator Lucas appeared on video taken by police telling officers they could not arrest demonstrators who she said were preparing to paint the monument. Later that night, the mob pulled statues down and also painted them.
Last month, Senator Lucas filed a defamation lawsuit against attorney Tim Anderson after he accused her of telling police they were not allowed to disband the protesters and not allowed to intervene while the vandalism was happening. He said, "What we have is an elected state senator telling a mob that it's OK to vandalize city property, and then, as a result, a person gets hurt, and now it's the police's fault for not disbanding the mob. Louise Lucas caused an entirely, very dangerous situation in the city of Portsmouth. She caused a mob to come out there and gave them permission to vandalize the property, and that resulted in somebody getting seriously injured." -GEG
Greene announced the warrants one day before Lucas was due to join other legislators in Richmond for a special session of the General Assembly called, in part, to address issues of racial inequity and police brutality raised after the killing of George Floyd in Minneapolis police custody in May.
Lucas was not in police custody and intended to attend the session, according to several Democrats who said they spoke with her on Monday.
"It's deeply troubling that on the verge of Virginia passing long-overdue police reform, the first Black woman to serve as our Senate Pro Tempore is suddenly facing highly unusual charges," Gov. Ralph Northam (D) tweeted. "I look forward to seeing you in Richmond tomorrow — so we can get to work."
At a news conference announcing the charges Monday afternoon, Greene said: "Several individuals conspired and organized to destroy the monument as well as summon hundreds of people to join in the felonious acts, which not only resulted in hundreds of thousands of dollars in damage to the monument but also permanent injury to an individual."
Additional source:
https://www.13newsnow.com/article/news/local/mycity/portsmouth/louise-lucas-files-lawsuit-against-lawyer-leading-recall-effort/291-dd64dbf8-2b47-4630-b8e8-7b2fd1993939