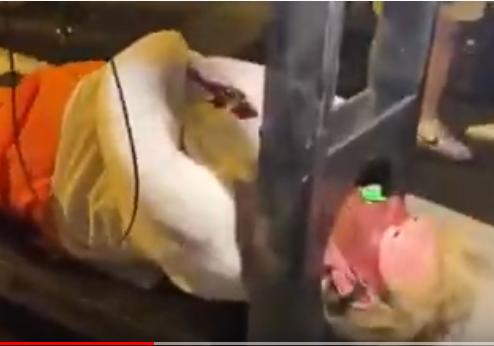 Hundreds of screaming Black Lives Matter and Antifa militants converged on Washington, DC on the final night of the Republican National Convention. They shut down the streets and swarmed Republicans leaving the White House after President Trump's speech. BLM and Antifa squads went after Rand Paul and his wife with intent to harm or kill. Paul said the rioters likely were from out of town and had been paid. Most of them were wearing new cloths and were staying in hotels. He said the hotel bills should be subpoenaed to find out who bankrolled the operation so criminal charges can be made against them and those who hired them. -GEG
Rioters knocked down an elderly Trump supporter. The man was walking through the area with a woman wearing pro-Trump attire when the mob began to follow him and harass him. A black woman punched him in the jaw. Then he was knocked to the ground. As usual, no police are present. The rioters have the streets to themselves.
President Trump gave his speech on the South Lawn of the White House, protesters gathered on the north side of the White House on Black Lives Matter Plaza and put an effigy of Trump in a guillotine for a ritual mock execution. The video of the guillotine scene also includes a clip of Kamala Harris, shortly after becoming Biden's running mate, professing that the BLM riots will not stop and should not stop.
The rioters surround the historic Episcopalian St. John's Church and chant a threat to burn it down.
The liberal media and LGBT groups have remained silent about BLM aggressors who screeched an anti-gay slur against Brandon Straka, the gay man who created the 'Walk Away' campaign for Democrats who realize the party is radicalized and does not represent them. The night after Black Lives Matter assaulted Republicans exiting the RNC at the White House, the mob marched through the streets of the capital chanting, "who do we protect? Black criminals!"