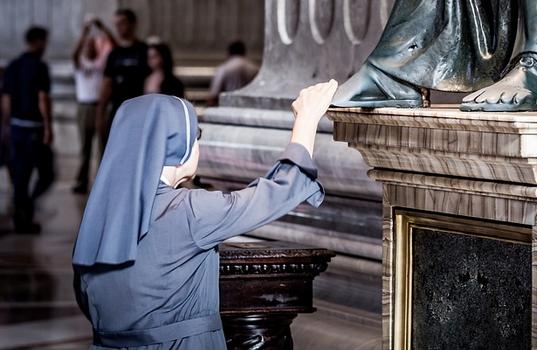 Nuns at The Little Sisters of the Poor, a religious nonprofit that operates homes for the elderly, won their Supreme Court case against the contraceptive mandate in Obamacare. The Trump administration's broad rollback of Obamacare rules that required employers to provide free birth control to women now protects employers from being forced to participate in providing cost-free contraceptives to employees. Justices Ruth Bader Ginsburg and Sonia Sotomayor dissented, saying the Court's ruling "leaves women workers to fend for themselves." Democrat Congressman Jerry Nadler said the regulations upheld by the Court can be reversed by a new President. -GEG
The U.S. Supreme Court on Wednesday ruled 7-2 upholding President Donald Trump's move to let more employers opt-out of the Affordable Care Act mandate guaranteeing no-cost contraceptive services for women.
The case involved a 2018 regulation from the Department of Health and Human Services exempting any employer with a religious or moral objection to contraception from a requirement that such coverage be included in an employee's health insurance plan.
Seventeen states, led by Pennsylvania and New Jersey, challenged the policy as fundamentally unlawful and it's rationale as "arbitrary and capricious."
The Affordable Care Act requires insurers to include "preventive care and screenings" as part of "minimal essential coverage" for Americans, but it left to HHS to define what services qualify. Since 2010, all FDA-approved contraceptives have been included. Millions of women obtain birth control at no cost through their employer-sponsored health insurance plans under these rules.
Justice Clarence Thomas, writing the majority opinion, concluded that a "plain reading" of the law gives the administration "virtually unbridled discretion" to decide what counts as required coverage and any religious and moral exemptions that may be necessary.
Link for legislation:
https://leginfo.legislature.ca.gov/faces/codes_displayText.xhtml?lawCode=PEN&division=&title=11.6.&part=1.&chapter=1.&article=