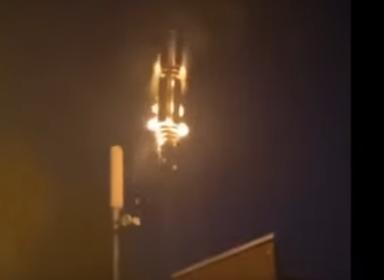 Several cell towers in the UK were set on fire, and 5G engineers were harassed following the online spread of evidence that coronavirus symptoms can be created by 5G EMF. Oliver Dowden, the Digital and Culture Secretary, is asking social-media companies to crack down on 'misinformation' fueling 'criminal behaviour'. The official narrative is that non-ionizing radiation emitted by 5G is not harmful in spite of the fact that numerous studies show it can damage human health.
In 2011
, 30 international scientists who are part of the working group of the International Agency for Research on Cancer (IARC), which is part of the World Health Organization, classified RF-EMFs as "possibly carcinogenic to humans". -GEG
From the UK Telegraph:
Tech giants are facing calls from ministers to halt the spread of "crazed conspiracy theories" about 5G after mobile phone masts were set alight and telecoms engineers abused by people peddling "nonsense" linking the digital technology to the Covid-19 outbreak.
This week, Oliver Dowden, the Digital and Culture Secretary, will ask social media companies to crack down on misinformation fuelling "criminal behaviour" as the NHS warned that activists were targeting the infrastructure being used by emergency services combating the coronavirus.
Michael Gove, the Cabinet Office minister, described conspiracy theories blaming 5G masts for the spread of Covid-19 as "dangerous nonsense".
The Government's intervention came after masts in Birmingham and Liverpool were feared to have been targeted by…
Additional source:
https://www.cnbc.com/2020/04/06/coronavirus-uk-cell-towers-set-on-fire-amid-5g-conspiracy-theories.html