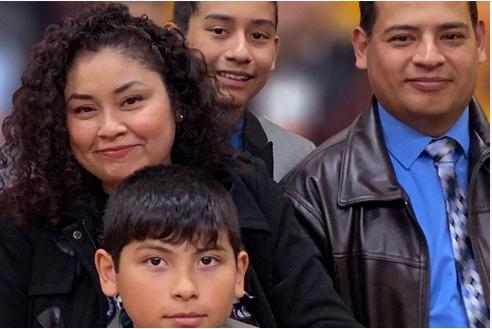 Oscar Simei López Castillo, 13, an American citizen, died late Saturday when armed men, believed to be drug-cartel members, crashed into their vehicle and opened fire on them in the Mexican state of Tamaulipas. The highway on which they were traveling was a stretch of road that rival drug gangs are fighting each other to control. Juanita Lopez, Simei's mother, was driving her two sons to visit family members for a holiday. She and her 10-year old son also were shot multiple times and are in serious condition. -GEG
A 13-year-old boy who lived in Stillwater and attended Westwood Elementary through 2018 was killed Saturday night in what Mexican authorities say appears to have been an ambush by members of a drug cartel.
Oscar Castillo Lopez, 13, was traveling with his 10-year-old brother Neftali, mother Jaunita Castillo Lopez, 41, of Oklahoma City and her uncle Jose Silva Mendoza, of Oklahoma City, as they returned from a holiday trip to visit family in San Luis Potosi, Mexico, a city about 427 miles south of the U.S. border.
More family members were following them in a second SUV and the two vehicles were caravanning on a highway that runs parallel with the border and connects Reynosa to Nuevo Laredo.
Multiple media outlets have reported that this highway through the state of Tamaulipas is a dangerous stretch of road because rival drug gangs are fighting for control of it. The attack on the family has been attributed to the Northeast Cartel due to initials written on the window of the abandoned car, but others are said to also be active in the area.
The family was near Neuva Ciudad Guerrero, just across the border from Falcon Heights, Texas, when they were attacked.
Mendoza told Fox 25 in Oklahoma City that he was driving the vehicle carrying his niece and her sons when a vehicle started chasing them.
At least one vehicle collided into their vehicles in an attempt to stop them.
Gunmen blocked the road ahead of them and started shooting, Mendoza said.
"I was praying. Praying, praying, praying," he said. "I didn't want to die right then … Bullets were everywhere."
Oscar Lopez was shot multiple times and died at the scene, according to a report by El Tejano. His mother, brother and uncle were transported to a hospital in Nuevo Leon in stable condition. The family members in the other car were not hurt.
Additional source:
https://www.gofundme.com/f/pnx5y-help-support-the-lopez-family?member=3469926&utm_source=twilio&utm_medium=sms&utm_campaign=contacts-v2-invite-to-donate