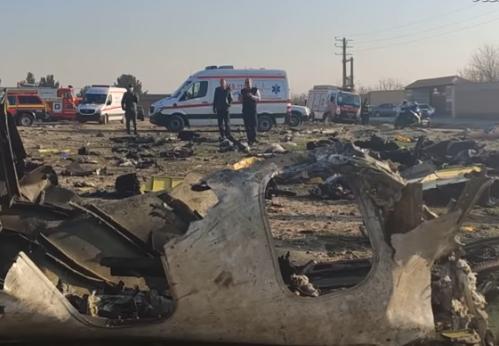 The Wall Street Journal is reporting that US, Canadian and UK officials claim that a Ukrainian Boeing 737 commercial aircraft that crashed shortly after takeoff from Tehran on Wednesday, hours after Iran launched retaliatory missile attacks against two US bases in Iraq, was mistakenly downed by a Russian-made surface-to-air missile system fired by Iran. However, there is still an investigation pending and Iran has responded by calling the theory a "big lie." The cause of the crash was initially reported due to mechanical problems. The plane was a 737-800 Boeing aircraft that is not to be confused with the 737 MAX planes that were grounded last year. All 176 passengers were killed, including including 82 Iranians, 63 Canadians, 11 Ukrainians,10 Swedes, 4 Afghanis, 3 Germans, and 3 Britons.
A team of 45 Ukrainian experts and officials in Tehran will be involved in decoding the black boxes and identifying and repatriating bodies. It is not clear how much access US investigators will get to the crash site, given the current animosity between the two countries.
U.S., Canadian and U.K. officials believe that a Ukrainian commercial aircraft that crashed shortly after takeoff from Tehran on Wednesday was mistakenly downed by a Russian-made surface-to-air missile system fired by Iran.
"We have a high level of confidence that this was shot down by Iran," one U.S. official said Thursday, adding that the plane was being tracked by Iranian radar used to aim missiles just before the system was fired. The official identified the weapon as a Russian-made SA-15 surface-to-air missile system, also referred to as the Gauntlet.
Iran disputed the accusation, which a government spokesman called a "big lie."
One factor contributing to the U.S. assessment was the large field of debris at the crash site, a second official said. Planes that crash as a result of mechanical failure have narrower debris fields, the official said.
President Trump on Thursday said "I have my suspicions" about the crash, voicing doubt in remarks at the White House that the cause may have been mechanical problems.
Canada Prime Minister Justin Trudeau and U.K. Prime Minister Boris Johnson also said Thursday they believe the plane was shot down by an Iranian surface-to-air missile. "This may well have been unintentional," Mr. Trudeau told reporters in Ottawa of the crash, which killed at least 63 Canadians. He reiterated his push for a credible probe into the cause: "I want answers."
The Ukraine International Airlines crash killed all 176 passengers and crew members on board. The Boeing Co. 737-800 single-aisle plane departed the Iranian capital's Imam Khomeini International Airport en route to Kyiv, Ukraine early Wednesday.
The crash came hours after Iran launched missile attacks on U.S. troops at two Iraqi bases in retaliation for the killing of Iranian Maj. Gen. Qassem Soleimani. The timing of those attacks raised questions about whether the Ukrainian airliner was downed by a projectile.
Ukraine International Airlines Flight 752
The Boeing 737-800 carrying 176 people crashed outside Tehran shortly after takeoff.
Ali Abedzadeh, head of Iran's Civil Aviation Organization, told Iran's Channel 2 news program that it was "not possible" an Iranian missile had hit the jet. "How would the antiaircraft system shoot it? It wasn't a security area," he said.
Mr. Abedzadeh said that up to nine other planes were flying in the area at the time of the crash and dozens of aircraft were at an altitude of 25,000 feet. Eyewitness saw the plane fall to the ground in flames, he said. "If the plane was hit by a missile, it would have exploded," he said.
Iran earlier rejected the notion of a hostile act. "Since the Ukrainian pilot was trying to return to the airport, a rocket, missile strike or the country's defense system is out of question," said Hassan Rezaifar, head of Iran's Civil Aviation Organization commission for accidents investigation, quoted by Iran's state news agency. "No missile part was found in the crash scene."
Iranian officials, quoted by the state news agency, said the plane had suffered a technical fault, that it had started to turn back in the direction of Tehran's airport and was already on fire before it hit the ground. They said the jet had reached 8,000 feet before disappearing from radar.
The investigation is expected to be particularly thorny, with heightened tensions between the U.S. and Iran over the killing of the top Iranian general likely to complicate international cooperation.
A spokesperson for Ukraine International Airlines didn't immediately respond to a request for comment.
"Ukraine is interested in finding the truth. Therefore, I ask all our international partners: if you have any evidence to assist the investigation, please provide it," said a spokeswoman for Ukrainian President Volodymyr Zelensky.
A Ukrainian official said that while Ukrainian investigators haven't reached a firm conclusion, a missile strike seems increasingly likely.
Ali Rabiei, Iran's government spokesman, said the country vowed to conduct a "fully transparent, precise, quick" investigation, according to a statement on news agency ISNA.
"A Pentagon source who didn't want to reveal their name bombastically reported the news that the Ukrainian plane was hit by two missiles," he said. "When in the future it turns out that there is no truth to this claim, no one will take responsibility for this big lie."
Mr. Rabiei added, "We call on Boeing to send its representative to participate in the procedure of examining the black box."