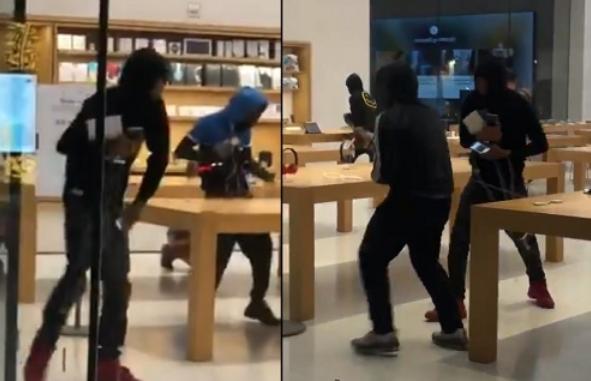 California: Burlingame police are looking for a group of seven hooded men who stole electronics on display valued at $50,000 from an Apple store on Thursday night and made their getaway in a silver VW Jetta. This is the third time this month that the store has been hit. Apple has instructed its employees not to engage when these thefts are happening. No one was injured during this robbery. Smash and Grab robberies are a growing trend across the US. -GEG
Hooded robbers are seen snatching up iPhones, tablets and other expensive electronics.
The brazen Thursday night robbery happened at the Burlingame Apple Store around 8:15.
"Did they have guns or something?" Ayesha Fayez said.
Fayez was stunned while watching the video that has now gone viral on social media.
"I was shocked because they were just doing it so casually and like grabbing things," she said.
Fayez said she's aware the popular store has recently fallen victim to similar thefts.
"It actually happened a couple weeks ago too ," she said. "They even have a broken door."
Additional source: