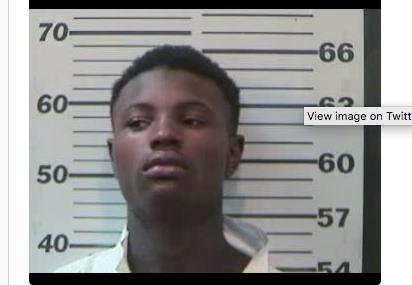 Mobile, Alabama: Ten people were injured in a mass shooting Friday night at a high school football game. Police reported that 17-year-old Deangelo Parnell turned himself in to law enforcement early Saturday morning, after being identified as the shooter. Witnesses said there was a fight in the stadium at the end of the game before the shooting. Police say that there were "adults who were privy" that a shooting might occur, or who knew there was some kind of beef between Parnell and others and said nothing. -GEG
DeAngelo Parnell, 17, has been charged with nine counts of attempted murder after a shooting in a Mobile, Ala., stadium where a high school football game was being played Friday night.
Police say nine people were shot, mostly teenagers, at the Pebbles Ladd Stadium as a game between LeFlore and Williamson high schools was ending. Parnell is reported as being a student at LeFlore High School.
Mobile Police Chief Lawrence Battiste said the injured are all teenagers ranging from 15 to 18. Among them, at least five suffered critical injuries. One person suffered a seizure.
Parnell turned himself in to police early Saturday morning.