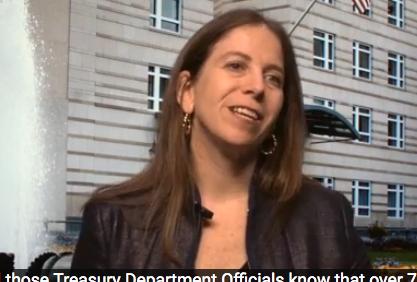 Sigal Mandelkeris, an Israeli-born US Treasury official, is reported to be in control of the current economic sanctions meant to bring about Iran's demise. The Treasury has refused to divulge whether Mandelker is still an Israeli citizen, which suggests that she is. Otherwise, a simple no would suffice. Israel considers Iran to be her primary enemy, so an Israeli citizen in such a position opens the possibility that US policy may be motivated by loyalty to Israel, not to the US. -GEG
At the Center of U.S. Iran policies is an Israel-born Treasury official named Sigal Mandelker. The Atlantic writes that her 'hand is on the lever' of crippling economic sanctions meant to force Iran's 'capitulation or demise'… meanwhile the Treasury Department refuses to divulge whether Mandelker is still an Israeli citizen… (Iran has long been in Israeli crosshairs)
By Alison Weir
According to a just published report in the Atlantic and a previous article by a former CIA officer, an Israeli-born individual is at the center of U.S. policies targeting Iran.
The Atlantic reports that financial sanctions are the "key tool" the United States has been using against Iran during "the past three presidential administrations." And Treasury official Sigal Mandelker" is the one with her hand on the lever."
According to the article, "Because Trump is anxious to avoid war with Iran but also eager to push the Iranians, she is one of the most powerful officials designing the strategy Trump's administration hopes will force Iranian capitulation—or, failing that, perhaps even the government's collapse."
Mandelker has been working on governmental policies since 2006 – the year in which U.S. officials "focused on finding ways to cut off Iran from the global financial system."
According to Mandelker's Treasury Department bio, from 2006-2009, Mandelker served as Deputy Assistant Attorney General in the Criminal Division of the Department of Justice. Prior to that, she was Counselor to the Secretary of Homeland Security, "where she advised the Secretary and worked extensively on intelligence, national security, counterterrorism, and border security matters."
In 2017 Mandelker was named Under Secretary of the Treasury for Terrorism and Financial Intelligence. As we will see, this office was created at the behest of Israel partisans. It provides a powerful position from which to direct policies.
In this position she is in charge of "developing and implementing U.S. government strategies to combat terrorist [sic] financing and money laundering… She oversees the operation and coordinates actions of the Office of Foreign Assets Control (OFAC), Financial Crimes Enforcement Network (FinCEN), the Office of Intelligence and Analysis (OIA), and the Office of Terrorist Financing and Financial Crimes (TFFC)."
In the years just before her 2017 Under Secretary appointment, Mandelker was a partner at Proskauer Rose LLP, a powerful, politically connected international law firm with ties to Israel. The pro-Israel website Algemeiner,* reports: "Historically, Proskauer Rose was known as a 'Jewish' law firm." Partner Joseph M. Proskauer was "a Democratic Party stalwart, friend of politicians, state judge, civic and philanthropic personality, and major fund raiser for the state of Israel."
Born in Israel
It appears that Mandelker is or was an Israeli citizen who was born in Israel. While this is periodically referred to in Israeli and Jewish media, the Treasury Department has refused to answer whether Mandelker is still an Israeli citizen, despite numerous email and phone inquiries requesting this information about a high U.S. official.
The information is particularly relevant since U.S. attacks on Israel's neighbors are often pushed by Israel partisans concerned with maintaining Israeli hegemony in the region.
Dual citizenship became permissible in the U.S. in 1967 under a decision by the Abe Fortas Supreme Court in a case on behalf of Israel that broke a 200 year American tradition. Today, many Americans feel that such a potential conflict of interest by governmental officials should, at minimum, be divulged to the U.S. public, and perhaps disallowed.
Israel has long targeted Iran for attack.
From Israel's earliest days, Ben Gurion wrote about the need to neutralize Israeli neighbors who might potentially support Palestinian rights. This strategy has also been enunciated in various strategy documents, including the Yinon Oded Plan and A Clean Break: A New Strategy for Securing the Realm (the realm was Israel).
Israel and pro-Israel groups in the U.S. have frequently promoted anti-Iran policies, despite the fact that U.S. intelligence agencies have found that Iran is not developing nuclear weapons and that accusations claiming this have proven unfounded. (Israel has in the range of 100-300 nuclear weapons and has refused to sign the Non-Proliferation Treaty, the only Middle East state that has not signed the NPT.)