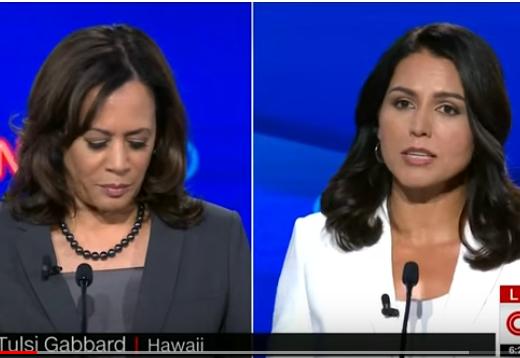 Attacking the record of Senator Kamala Harris when she was a prosecutor, Tulsi Gabbard criticized the way Harris "put over 1,500 people in jail for marijuana violations and then laughed about it when asked if she ever smoked Marijuana", "blocked evidence that would have freed an innocent man from death row until the court's forced her to do so", "kept people in prisons beyond their sentences to use them as cheap labor for the state of California", and "fought to keep the cash bail system in place that impacts poor people in the worst kind of way". Twitter users (or trolls?) accused Tulsi of being an agent of Russian President Putin.
In the race to determine who will serve as Commander in Chief of the most powerful military force in the history of civilization, night two of the CNN Democratic presidential debates saw less than six minutes dedicated to discussing US military policy during the 180-minute event.
That's six, as in the number before seven. Not sixty. Not sixteen. Six. From the moment Jake Tapper said "I want to turn to foreign policy" to the moment Don Lemon interrupted Congresswoman Tulsi Gabbard just as she was preparing to correctly explain how President Trump is supporting Al-Qaedain Idlib, approximately five minutes and fifty seconds had elapsed. The questions then turned toward the Mueller report and impeachment proceedings.
Night one of the CNN debates saw almost twice as much time, with a whole eleven minutes by my count dedicated to questions of war and peace for the leadership of the most warlike nation on the planet. This discrepancy could very well be due to the fact that night two was the slot allotted to Gabbard, whose campaign largely revolves around the platform of ending US warmongering. CNN is a virulent establishment propaganda firm with an extensive history of promoting lies and brazen psyops in facilitation of US imperialism, so it would make sense that they would try to avoid a subject which would inevitably lead to unauthorized truth-telling on the matter.
But the near-absence of foreign policy discussion didn't stop the Hawaii congresswoman from getting in some unauthorized truth-telling anyway.
Attacking the authoritarian prosecutorial record of Senator Kamala Harris to thunderous applause from the audience, Gabbard criticized the way her opponent "put over 1,500 people in jail for marijuana violations and then laughed about it when she was asked if she ever smoked marijuana," "blocked evidence that would have freed an innocent man from death row until the court's forced her to do so," "kept people in prisons beyond their sentences to use them as cheap labor for the state of California," and "fought to keep the cash bail system in place that impacts poor people in the worst kind of way."
Additional source: