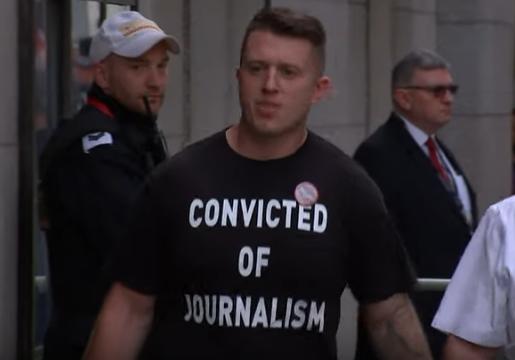 Tommy Robinson, an independent journalist in the UK, was sentenced to 66 days in prison for live streaming public commentary on the sidewalk outside the court during a 2018 Muslim sex-grooming-gang trial. He fears he will be murdered in prison by Muslim prisoners. The prosecution has claimed that Robinson's reporting outside the courthouse was a "serious interference with the administration of justice." In a recorded message from prison, Robinson said: "So, I'm in prison — for the crime of journalism — for exposing Muslim pedophile rapists." -GEG
Tommy Robinson has been sentenced to six months in prison for three counts of contempt of court and will likely be sent back immediately following the conclusion of the hearing.
The sentence is highly unusual as contempt of court cases almost always lead to a non-custodial sentence — especially for journalists. Typically, a media outlet or journalist would face a slap on the wrist or light fine. Yet, one of the judges in the case, Dame Victoria Sharp, said that "nothing less than a custodial penalty would reflect the gravity" of the situation.
The judge admitted that they specifically wanted to make an example of Robinson.
As she handed down the sentence, Sharp acknowledged that Robinson was not intentionally interfering and that he did not disrupt the trial — but said that he acted recklessly.
Robinson already served ten weeks in prison for the livestream before winning an appeal and being released, so they will be reducing the penalty by 138 days. However, the judge activated a prior suspended sentence and ordered them to run consecutively — bringing the total sentence to nine months. With the time he has already served, the outspoken commentator will end up serving 9.5 weeks in prison for the crime of doing journalism.

To rub salt in the wounds, the court has also ordered him to pay the costs of the trial.
Prior to his sentencing hearing, Robinson recorded a video urging supporters to use every means at their disposal to highlight the problem of grooming gangs preying on young girls.
"So, I'm in prison — for the crime of journalism," Robinson began in the pre-recorded video, "for exposing Muslim pedophile rapists."
Robinson continued on to say that "British journalists don't seem bothered about this at all. They are puppets of corporate globalist media. In fact, they're not even journalists. They're activists."
Tucker Carlson interviewed Tommy Robinson in August 2018, following a temporary release from his first imprisonment pending an appeal.