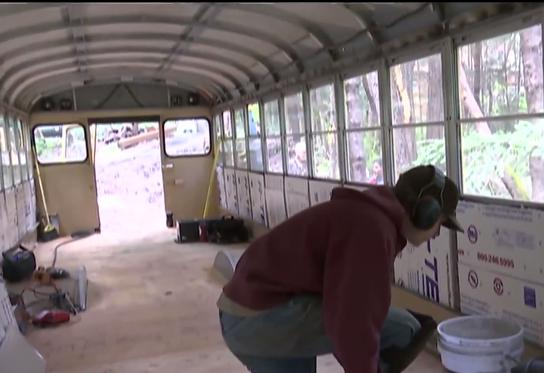 Julie Akins, the founder of Forever Homes, Vehicles for Changes, said that 20,000 Oregon children are homeless. She is renovating retired buses into fully functioning houses on wheels for families in need. The buses are mobile, have solar power, 50-gallon water tanks, full kitchens and a shower in the bathroom.  The converted homes can last as long as 30 years and cost about $25,000. 
Medford, Ore. — A local non-profit is working to end homelessness one school bus at a time. 'Forever Homes, Vehicles for Change' is renovating retired buses into fully functioning houses on wheels.
"Every time I think about the bus, I just start smiling," Founder and local homeless advocate Julie Akins said. "I just started trying to think of ways that I could help get kids under a roof, and honestly I had a dream about a bus, and I woke up the next day, and started researching, what I learned later is called a skoolie."
The skoolie the group is working on is their first. Once renovated, the buses will have water tanks, solar power, a kitchen, bathroom, bedrooms and a living space.
"It's an idea that's just catching on like wildfire," Leo Gorcey, Director of Development said. "Buses can go anywhere from 20 to 30 years, so you've got buses that are being retired at 12 years who have all these years of life left on them."
To move in, applicants will need a driver's license, a job, and a child. The group is focusing its efforts on housing homeless children and their families. Gorcey noted compared to a typical family home, it's much more cost effective.
"You can convert the bus into a really nice living space for about $15- to $18,000."
For a dollar lease per month, plus rent for an RV park, struggling families can save for a different home. They will also have the option to buy the bus they're in with $200 monthly payments. While the process is long and laborious, Akins said the work will more than payoff.
"Whatever it takes to get kids under a roof and get a home cooked meal, and have the kind of childhood that all of us want kids to have, the kind of childhood we had," Akins said. "There's no reason not to provide that."
Additional Source:
https://www.kdrv.com/content/news/Organization-Renovates-Buses-into-Homes-for-Families-in-Need-506855631.html