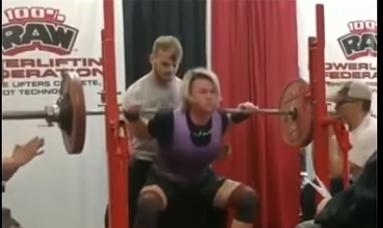 Mary Gregory, a biological male who is transitioning to female, smashed four women's weightlifting records and won nine out of nine events at a single tournament. Last week, two other trans athletes won first and second place at the Connecticut state girls indoor track championships. Biological males have higher bone density, larger muscles, and higher testosterone levels than their biological female opponents. -GEG
It's the end of women's sports as we know it.
For the second year in a row, transgender wrestler Mack Beggs won the Texas girls' Class 6A 110-pound wrestling division. Beggs is in the process of transitioning from female to male and taking testosterone. Mack won the title last year too.
In October 2018 trangender Dr. Rachel McKinnon (in the middle) became the first ever transgender world champion in a womens cycling event.
In March 2017, Laurel Hubbard, a 39 year-old transgender who was born male, won her first international women's weightlifting title in Australia breaking four national records in the process.
Last week two trans athletes won 1st and 2nd place at the Connecticut state indoor track championships.
And this week a trans woman shattered four women's records in one day and won nine out of ten events at a single tournament.
Read full article here…