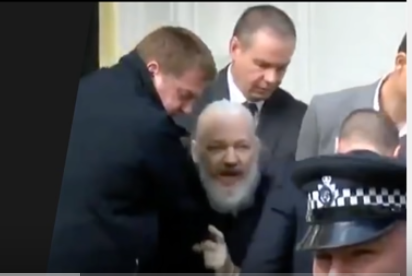 Julian Assange of WikiLeaks was arrested at the request of the US government on a charge of agreeing to break a password to a classified US government computer. He has been living in the Ecuadoran embassy in London since 2012 were he was granted asylum. Ecuador's President Lenin Moreno is the subject of the 'INA Papers' that were leaked in February that are said to link him and his family to money laundering. WikiLeaks did not publish the INA Papers but did report that Moreno was under investigation for corruption. Last December the New York Times revealed that Moreno tried to sell Assange to the US for debt relief. Ecuador received $4.2 billion in a US backed IMF bailout on February 4. The US seeks Assange's extradition over WikiLeaks' 2010 shocking internal documents on war and diplomacy.
On 26 March, WikiLeaks' Twitter account announced that President Moreno is being investigated by Ecuador's Congress for corruption, sparked by the INA Papers leak. The same tweet referenced President Moreno's attempt to surrender Assange in exchange for US debt relief, a fact that had been reported by The New York Times.
The following day, Foreign Minister Jose Valencia said that the WikiLeaks tweet was "an absurd lie to harm the dignity of our country… we will not tolerate… inventions and insults… I cannot anticipate when and when we will take action in relation to this, but we will take action for certain."
On 28 March, Communications Minister Andrés Michelena told CNN Español that the INApapers were part of a plot of Julian Assange, Venezuelan President Maduro and former Ecuadorian President Correa to bring down Moreno's government. He added, "You have to understand how these people are connected, Mr. Assange is the Troll Center, the hacker for former President Correa, [Assange] handles the technological and social media side."
That same day, the national assembly, in which Moreno's party and other right parties command a majority, passed a resolution inviting the Foreign Ministry to take action against Assange's asylum on the basis of the INApapers leak "in the national interest" if it considers it pertinent to do so.
In March 2019, Moreno's approval ratings dropped to 17%. Statements by the government of Ecuador deliberately implicate WikiLeaks in the INApapers leak. For example, Ecuador's Vice President Otto Sonnenholzner said in a local radio interview, "What Wikileaks and other political actors have done, to publish private photos of the President of the Republic, of his family, is a despicable, repugnant, and odious act."
Additional source:
https://www.thegatewaypundit.com/2019/04/video-wikileaks-editor-in-chief-warns-other-journalists-about-the-serious-precedent-being-set-if-julian-assange-is-extradited/