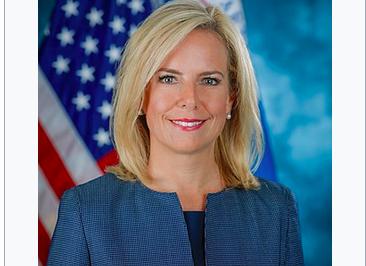 Kirstjen Nielsen left her position as Director of Homeland Security amid a surge in migrants at the border, including children who are used to claim asylum under the Catch-and-Release loophole. She was heavily criticized and harassed for enforcing the separation of families at the border before the policy was changed. She has been replaced by Acting Secretary Kevin McAleenan, the commissioner of Customs and Border Protection who served as its deputy commissioner under Obama. Trump currently has four other acting department advisors, including acting Secretary of Defense Partick Shanahan, acting Secretary of the Interior David Bernhardt, acting ICE Director Ronald Vitiello, and acting Chief of Staff Mick Mulvaney.
After Homeland Security Secretary Kirstjen Nielsen's resignation Sunday, Trump quickly announced he was naming McAleenan as acting secretary.

She reportedly resigned after a meeting with Trump, amid the president's disappointment with continued problems at the southern border.
Nielsen, 46, had served as homeland security secretary since Dec. 6, 2017, succeeding her former boss, John Kelly, when he left the post to become White House chief of staff.

Trump tapped McAleenan, 47, for the top post after his work enforcing some of the administration's more controversial policies, such as "zero tolerance" for illegal immigrants crossing the border. The commissioner also has supported a border wall and testified before Congress that there is a crisis at the border.

Obama named McAleenan as acting deputy commissioner of customs and border protection in 2013, and he was sworn in as the permanent deputy role at DHS under Obama in 2015. The Senate overwhelmingly confirmed him as commissioner in March 2018 by a vote of 77-19.