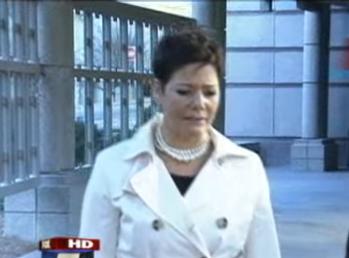 Ginger White accused Herman Cain, former anti-establishment Presidential candidate, of having an affair with her. She also demanded that he withdraw his name for consideration from the Federal Reserve Board under threat of exposing intimate details of the relationship including a description of his genitals which, according to her, would prove that her accusation was true. He complied with her demand. -GEG
A woman who claims to have had an affair with former Republican presidential candidate Herman Cain got her wishes after threatening to publicly depict his genitals if he didn't withdraw his name from consideration for the Federal Reserve Board.
"I ask Herman Cain, if I never had a sexual relationship with you, how would I be in a position to describe parts of your body that are not visible?" Cain's accuser Ginger White asked on Thursday.
"It's time for you, Herman, to quit," White continued. "You are a liar and you don't deserve the public's confidence in such an important position."
The comments were made during a Manhattan press conference with White's high-profile lawyer Gloria Allred, who frequently represents women accusing men of sexual misconduct.
Allred also called for Cain's withdrawal, saying, "We call on Mr. Cain to do the right thing and spare all of us another bruising and painful confirmation hearing."
Monday, Cain officially withdrew from Federal Reserve consideration after realizing he didn't want to take a massive pay cut