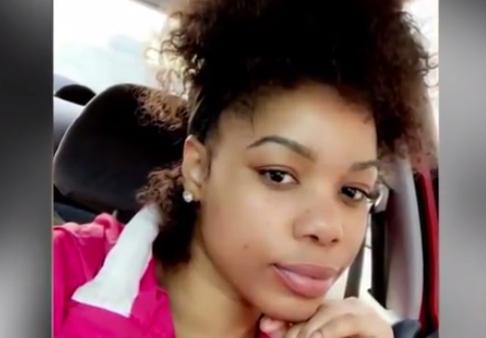 New Haven, Connecticut: Hundreds of people protested for six days following the police shooting by Hamden Police Officer Devin Eaton, who pulled over a red Honda Civic and shot at the car. Passenger Stephanie Washington, 22, sustained non-life threatening injuries. Yale Officer Terrance Pollock also fired shots at the vehicle. The driver of the car was initially suspected in an attempted armed robbery in Hamden.
NEW HAVEN — Hours after Yale University released the identity of its police officer involved in the controversial shooting this week on Dixwell Avenue, several hundred people — mostly college students — staged a protest Thursday night near the campus.
A group of more than 200 people, many of them Yale students, shut down the university's major commercial area on York Street Thursday night, blocking traffic on all sides.
"Police violence is a crisis in our state," community organizer Kerry Ellington said.
Earlier on Thursday, Yale said in a statement that Terrance Pollock, a 16-year veteran of the department, was its officer involved in the shooting.
Pollock had been patrolling campus in the Science Park area early Tuesday when he responded to help a Hamden police officer who "appears to have been looking for a vehicle based on a 911 call reporting that a person driving the vehicle had a gun," Yale officials said in a statement.
Hamden police identified Devin Eaton as the officer involved from their community on Wednesday.
Eaton and Pollock fired after the driver of the vehicle "exited the vehicle in an abrupt manner," Connecticut State Police Trooper Josue Dorelus said Tuesday.
Stephanie Washington, 22, was shot. She was transported to Yale New Haven Hospital and treated for non-life-threatening injuries, police said.
Activists gathered Thursday night to demand that Pollock and Eaton be fired by their respective departments, that all relevant footage be released to the public immediately and for the resulting investigation to be independent and transparent.
But Hamden Police Capt. Ronald Smith said in a news release late Thursday that the Hamden Police Department "cannot release any video and/or audio recording" related to the shooting, at the request of State's Attorney Patrick Griffin.
"The purpose of this directive is to ensure the integrity of the investigation," Smith said.
He added that the department intends to be transparent with Hamden and New Haven residents, as well as the media.
"We plan to release this information as soon as the State's Attorney's Office advises us that the release will not interfere with the ongoing investigation," Smith said.
Many of the speakers at the rally in front of Woodbridge Hall on Wall Street affiliated with Yale demanded to know why tuition dollars were funding an officer who would shoot two city residents outside of the university's campus.