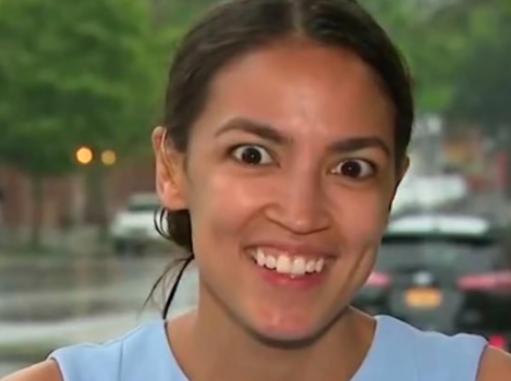 The New York Post analyzed Alexandria Ocasio-Cortez' (AOC) campaign spending that  revealed her hypocrisy in pushing the Green New Deal on Americans while she herself enjoyed using car services instead of the subway that had a stop 1-minute from her headquarters.  AOC's campaign logged 1,049 car service transactions totaling over $23,000 between May 16, 2017, and Dec. 31, 2018, The Post found. Her campaign once booked 26 car-service transactions in a single day. 
Patrick Moore, the co-founder of Greenpeace exposed her Green New Deal for failing to plan on how to feed 8 billion people without using fossil fuels.  In addition, he criticized her hypocrisy and her excuse of living in the "world as it is" by stating that the world offers the option of trains instead of plans and the subway instead of a taxi.
Freshman New York Rep. Alexandria Ocasio-Cortez responded to The Post's report on her giant carbon footprint by saying she's just "living in the world."
"I also fly and use AC," the Green New Deal-touting pol tweeted Saturday night. "Living in the world as it is isn't an argument against working towards a better future."
Patrick Moore, a former Greenpeace Canada president who now opposes the environmentalist group, issued a series of tweets over the weekend shredding Rep. Alexandria Ocasio-Cortez for her Green New Deal.
Mr. Moore, a scientist and author who routinely speaks out against the "eco-fascist" movement, took Ms. Ocasio-Cortez to task for her proposal to transition the country completely off fossil fuels in the next 10 years, saying her plan would result in "mass death."
"Pompous little twit," he tweeted. "You don't have a plan to grow food for 8 billion people without fossil fuels, or get food into the cities. Horses? If fossil fuels were banned every tree in the world would be cut down for fuel for cooking and heating. You would bring about mass death."
"The problem with @AOC is she doesn't know whether or not she knows what she is talking about," he wrote. "Makes it harder to think straight."
Mr. Moore was reacting to a tweet by Ms. Ocasio-Cortez, a democratic socialist, who defended herself for proposing the Green New Deal while still using major carbon emitters like airplanes and air conditioning.
"I also fly [in planes] & use A/C," Ms. Ocasio-Cortez tweeted in response to a New York Post article that slammed her for "gas-guzzling car rides."