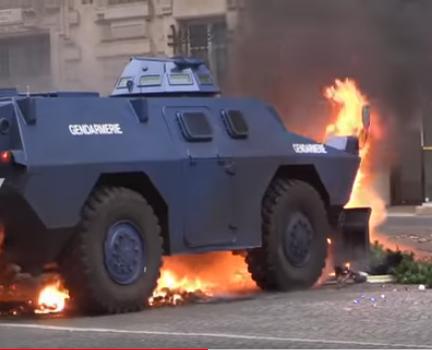 There was more rioting in France, 1,385 people were arrested, and armored vehicles with EU flags painted on them were deployed, raising concerns that the EU has an army and that it will be used against its own unarmed citizens.
Summary by JW Williams
The fourth week of Yellow Vest protests, by French citizens against a global warming tax on fuel, raged across France over the weekend, with 10,000 demonstrators gathering in Paris.  The Macron administration deployed 89,000 police and gendarmes (military troops) to try and contain the crowds across the country.  1,385 people were arrested and over 100 protesters were injured, including a man whose hand was blown off after reportedly picking up a grenade fired by police.  Property damage exceeded last weekend's losses.  Macron has gassed his own people.
A few weeks ago, Macron pledged to stand firm against protesters that he characterized as "thugs" but later he caved and revoked the globalist carbon tax.  He is polling at 18% and there is discussion about calling for a vote of no confidence.  US President Trump suggested that Macron scrap the Paris Treaty and "return money back to the people in the form of lower taxes."
Combat-ready armored
vehicles
with the EU flag were used against unarmed European protesters fighting against the high cost of living and a pro-EU authoritarian regime.  Many worry that the EU military is moving against its own people.
Yellow Vest protests
spread
to Brussels, Belgium as people attacked the European Union headquarters.  The protesters also gathered outside the American Embassy in Brussels.
Watch additional videos here: