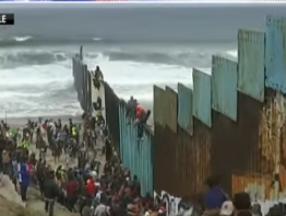 Last week, in an effort to stop the flood of migrants seeking economic benefit, President Trump signed an order to halt asylum claims made by people who illegally cross the US border with Mexico.  In the past fiscal year, 140,000 migrants from Central and South America have entered the US illegally!  Trump's new rule requires migrants to make asylum claims at official points of entry where "they would be processed in a controlled, orderly, and lawful manner."   The migrants will be funneled into the crowded entry points, with the hope that the long waits will discourage them, and they will apply for asylum in Mexico instead.  Mark Krikorian from the Center for Immigration Studies says that migrants who are unable to get the asylum hearing that they seek, will likely be processed and released into the US, which is their goal.
As expected, Trump's order has been challenged.  The American Civil Liberties Union (ACLU), Southern Poverty Law Center (SPLC) and Center for Constitutional Rights (CCR) is violating immigration law as well as the federal statute that governs the way administrative agencies can issue rules.
Trump has ordered thousands of additional troops to the US-Mexico border to offer support for border patrol agents in addition to more national guard troops who were dispatched to the border earlier in the year.