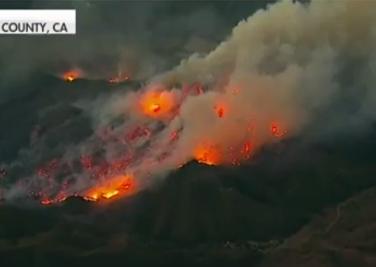 Evidence is gathering that PG&E utility power lines were the source of Camp fire in northern California that has left 71 people dead and more than 1,000 unaccounted, in addition to the destruction of more than 12,000 structures.  The California state utility regulator has indicated that PG&E will be able pass its losses onto its customers.  High rates could chase away business.  Critics oppose a bail out for PG&E, which has a tarnished safety record.
Summary by JW Williams
Northern California: The 'Camp' fire is considered the most deadly and destructive wildfire in the state of California, with 71 people declared dead and 1,011 still missing.  Camp fire has spread to an
estimated
146,000 acres and more than 12,000 buildings have been destroyed.  The cause of Camp fire has yet to be officially determined, but  there is speculation that PG&E is the source of the fire as the company reported an outage around the time and place the fire ignited.
Poor maintenance of power poles and failure to trim vegetation around power lines is a major cause of fires. On a
walking tour last spring
in San Jose, a former state regulator showed overloaded poles bending under the weight of wires and cables, as well as power lines running through tree foliage.
Stock for PG&E, an investor-owned utility, fell by 60%, losing $15 billion in valuation days after the fire began.  It had a short recovery after
California Public Utilities Commission (CPUC) President Michael Picker
said his agency will soon implement a provision in a new state law that makes it easier for utilities to pass costs for past wildfires to their customers.
Senate Bill 901 allows investor-owned utilities to pass the expense on to ratepayers, but is written to only cover fires beginning in 2019.  The new law law allows utilities to sell bonds to cover their liability costs and pay them off over time through higher rates. PG&E estimates that the cost to the average consumer could be $5 a year for every $1 billion in bonds issued.
If the rates are raised too high, manufacturing companies could relocate their businesses, and may even move out of state, leaving residential customers to bankroll the costs.  Should utilities even be allowed to recover all the cost, if they cut corners for profit and ignored safety standards?
From the NY Times:
As wildfires ravage large swaths of California for a second year, one of the state's biggest utilities has declared that it faces billions of dollars in potential liability — far more than its insurance would cover.
The potential losses could leave the company's customers on the hook to pay the bill, exposing businesses and consumers to higher costs. The utility, Pacific Gas and Electric Company, could even face bankruptcy, putting pressure on the state for a bailout.
With its financial liabilities mounting, the company's shares dropped by more than 20 percent on Wednesday. More than half of its market value has been wiped out since late last week as the fires have spread.
Investigators have yet to determine the cause of the deadliest of the current blazes, known as the Camp Fire, which has killed at least 56 people and destroyed virtually the entire town of Paradise, about 90 miles north of Sacramento. PG&E disclosed in a regulatory filing on Tuesday that an outage and damage to a transmission tower were reported in the area shortly before the fire started last week.
Many fires in recent years have been caused by downed power lines serving California's utilities. State officials have determined that electrical equipment owned by PG&E, including power lines and poles, was responsible for at least 17 of 21 major fires in Northern California last fall. In eight of those cases, they referred the findings to prosecutors over possible violations of state law.
Citigroup estimates that PG&E's exposure to liability for those fires is $15 billion — and that it could face another $15 billion in claims if it is found responsible for the Camp Fire, a number that could rise because the fire is only a third contained.
"The damages, if you add 2017 and 2018, obviously are going to be really significant," said Praful Mehta, a Citigroup analyst.
Crews for Pacific Gas and Electric Company worked last week to restore power lines in Paradise, Calif.
Credit

Rich Pedroncelli/Associated Press
The compounding costs of the year-after-year wildfires are making it increasingly difficult for any party to absorb the expenses, said Mark Cooper, senior research fellow for economic analysis at the Institute for Energy and the Environment at Vermont Law School.
If the utility is forced to increase rates sharply, the costs may take an economic toll. Manufacturing companies could choose to move their businesses out of the service area or even the state. Residential customers within the utility's territory then could be left to cover the costs.
"This becomes a humongous challenge," Mr. Cooper said. "If they try and raise the prices, they may not be able to get them. Should they even be allowed to recover all the cost, if they were guilty of imprudent behavior?"
PG&E said its liability insurance for the year that began Aug. 1 amounted to $1.4 billion.