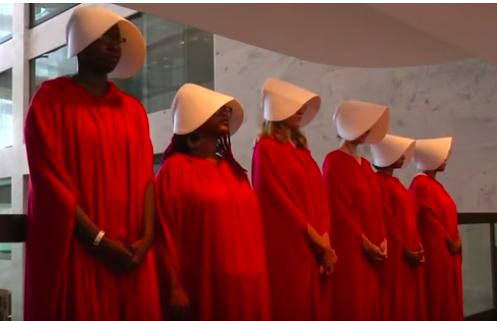 Jack Posobiec, a reporter for One America News network, was in a Starbuck's before the Brett Kavanaugh confirmation hearing when he recognized Lacy MacAuley, the leader of Antifa in Washington, DC, as the leader of the Handmaid's Tale protesters who dressed in red robes and white hats.  MacAuley describes herself as a radical feminist.  In 2017, she fell in love with a Turkish man and moved with him to his Muslim country, which severely limits women's freedom.  She says he threatened her, silenced her, and raped her. She has returned now to continue her feminism activism in the US instead of in Turkey where it is much more needed. -GEG
President Trump's Supreme Court pick Judge Brett Kavanaugh testified before the Senate Judiciary Committee Tuesday.
Democrats and protesters interrupted the the hearing for hours.
Dozens of liberal protesters were arrested and dragged screaming from the committee hearing.
Outside the hearing room another group of left-wing protesters dressed in Handmaid's Tale gowns and demonstrated in on the balcony.
Now we know who was behind the protest.
On Tuesday before the hearing OANN reporter Jack Posobiec ran into the liberal Handmaid's Tale protesters at a Starbucks.
Jack recognized their protest leader.
Her name is Lacy MacAuley and she is the DC leader of Antifa.