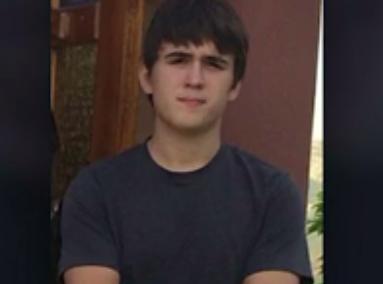 A shooting last Friday at the Santa Fe High School in Texas left ten people dead, stirring up calls for gun control.  There are some troubling aspects of this case: a doctor said that they are always "prepared for these drills", the media is silent about the second suspect, and a student witness said, "It was real this time, it wasn't real last time," implying there was a prior incident.
The official narrative of the May 18 shooting at the Santa Fe High School in Texas says that Dimitrios Pagourtzis,17, entered a classroom armed with his father's legally owned shotgun and .38 revolver.  He was reportedly wearing a "Born to Kill" T-shirt, and yelled "Surprise!" before opening fire at his classmates, killing 10 people and wounding 10 other survivors.  Students described Pagourtzis as quiet and "weird" because a long trench coat was part of his wardrobe, even on days when the temperature neared 90 degrees.  He was arrested at the scene.
.
Galveston County Magistrate Mark Henry said that police had found a pressure cooker with an alarm clock and nails, but no explosive material.  An unlit Molotov cocktail was also found.  Another law enforcement source said that they were searching a trailer where they believe the devices were assembled.
.
Unanswered Questions and Oddities

.
The mainstream media is ignoring certain aspects of this case that are suspicious…
.
1. 
CNN
reported that Harris County Sheriff Ed Gonzalez said that a second person, believed to be a student, has been detained, but there are no more details.   Will the media memory hole this part of the story?
.
2.  This strange interview features a student witness saying,
"It was real this time, it wasn't real last time."
  The reporter failed to follow up on that bizarre statement that implies there was a prior event.
.
3.  Two doctors were interviewed by a news source and the reporter said that she was aware that the hospital had just done a mass casualty drill to prepare for something like this, and the second doctor said that they are "always prepared for these drills."
.
4.  Why are there no video uploads from high school students who had cell phones?
.
5.  Are there cameras at the school that recorded video?
.
6.  Why is the media silent on whether the alleged shooter, Dimitrios Pagourtzis, is using psych drugs like SSRIs, even though psych drugs have been associated with almost all school shootings?
.
7.  Did the media coordinate its immediate uniform narrative and condemnation of  the NRA?
.
8.  Pagourtzis is being labeled a right-wing white supremacist when there was an iron cross pinned on his trench coat along with a leftist communist sickle and hammer pin.
.
9.  The media silent on investigators who also swarmed a second home in a neighborhood about five miles away from the school.  Officials there could be seen gearing up with battering rams, sledgehammers and saws.  There has been no more word on this part of the investigation.
.
10.  In a separate "incident," a US military helicopter dropped a box of ammo thru the rooftop of Parkland Elementary school in El Paso, TX:
Sources:
.
https://scallywagandvagabond.com/2018/05/dimitrios-pagourtzis-santa-fe-high-school-shooting-texas/
https://www.cnn.com/2018/05/18/us/texas-school-shooting/index.html
https://www.quora.com/What-is-comparison-between-number-of-people-saved-from-crime-by-having-a-gun-vs-number-of-people-killed-accidentally-by-guns