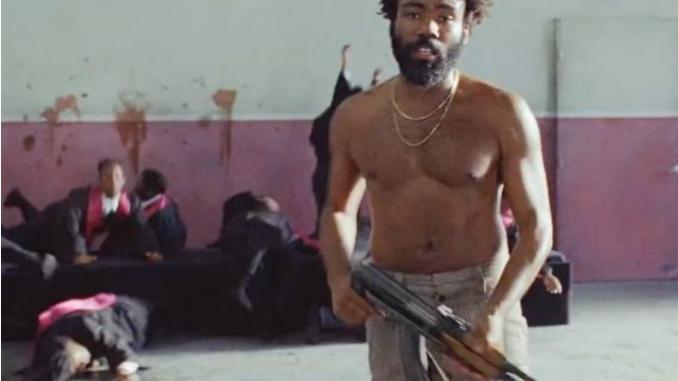 Rapper, Donald Glover, aka Childish Gambino, made a music video called This Is America that features him shooting a black choir with an automatic rifle. It's not clear exactly what the message of the video is supposed to be – if there even is a message – but the take away is that bizarre body gyrations and random murder is … well, America. We are waiting to see if YouTube or Go Daddy will feel moral outrage by this normalization of murder and close down Glover's Internet access. -GEG
Multi-hyphenate Hollywood singer-super-producer Donald Glover is a machine gun-toting prophet in his latest rap music video "This Is America."
Donald Glover — who snagged a Grammy Award earlier this year under his music moniker Childish Gambino —  is seen strutting through a massive building shirtless and periodically shooting other black people, in an oddly choreographed fashion.
Following a cheerful synchronized dance routine with uniform-clad school kids, Glover catches an AK-47 and opens fire on a group of gospel singers.
"Yeah, this is America. Guns in my area. I got the strap. I gotta carry 'em," Glover rhymes:
This is America (skrrt, skrrt, woo)
Don't catch you slippin' up (ayy)
Look at how I'm livin' now
Police be trippin' now (woo)
The four-minute, which is being heralded by left-wing personalities like Keith Boykin and Shaun King, video is punctuated with Glover lighting what appears to be a joint and running away from a mob.